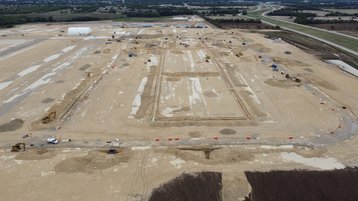 Over the next year, Meta reworked its core data center design to support denser GPU deployments for artificial intelligence workloads. These will be the first facilities with the new design to begin development.
"Meta is ramping up construction on the Temple Data Center! This will be one of our first data centers built using our new design — a design that will support the next generation of AI systems — and part of our infrastructure that brings our technologies to life," the company said.
The "data center will represent an investment of more than $800 million and support approximately 100 operational jobs," it added.
It will continue working with JE Dunn Construction on the project, and local contractors Rosendin, Brandt Companies, Peabody General Contractors, Alamo Structural Steel, Perry and Perry Builders, CentiMark Corporation, and BakerTriangle, with more than 1,200 construction workers on-site at the peak of construction.
Similarly, it expects an $800m investment in Kuna, and 100 operational jobs. It will continue working with HENSEL PHELPS, Engineered Structures, Inc. (ESI), and other local partners, with 1,000 construction jobs expected at peak.
Meta believes that the new design will be 31 percent cheaper and take half the time to build over the previous approach.
"We've now gone to market with our design, and the sort of response we've gotten back has given us confidence that our projections are coming to fruition," Alan Duong, Meta's global director of data center engineering, told DCD for a profile on Meta's new data center design.
That profile is in the latest issue of the DCD Magazine, out now
More in Construction & Site Selection