Large data center leasing deals are continuing at a very high level in the US, with Meta (Facebook) and TikTok dominating the biggest deals, according to an annual round-up from North American Data Centers (NADC).
A list of major deals compiled by NADC totals 573MW, compared with a figure of 700MW quoted last year. Facebook/Meta has six big projects totaling 283MW, all in the top 11 largest leasing deals of the year. TikTok has three 30MW deals in that group, and Twitter has a 48 MW deal in Hillsboro.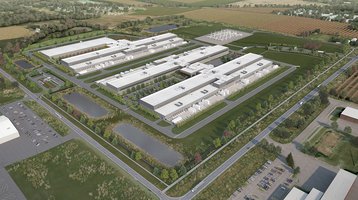 Northern Virginia was still the top site, but Hillsboro was a strong second market. That Twitter facility was joined by Facebook, Nvidia, and Intel.
Big players lease big facilities
With 11 deals over 30MW this year, Kerrigan predicts a continuing trend to giant leasing deals: "To accommodate these mega-leases, developments need to be much larger in the future," he says. "Winners will be those developers that build speculatively and can provide immediate plug and play solutions. These larger leases will drive larger investment transactions and we could see single properties fetching over $1 billion
"Overall, multi-tenant data center (MTDC) leasing activity during 2021 was as strong as 2020," said Jim Kerrigan of North American Data Centers, a real estate company specializing in data centers. "New products from the hyper-scalers such as Amazon, and artificial intelligence contributed to this new activity."
Kerrigan reports that Meta has seven million square feet of capacity under construction on campuses it owns, in Altoona, IA, Sarpy, NE, New Albany, OH, Gallatin, TN, Henrico, VA, Mesa, AZ, and Eagle Mountain, UT. Its big leasing deals were in Manassas and Ashburn, Virginia; Houston and Dallas, Texas; Phoenix, Arizona; and Aurora, Illinois.
Alongside the top two hubs, Kerrigan reports that "Phoenix and Dallas each had record years for leasing and Chicago rounded out the top five."
Microsoft had a standout year in 2020, with several new deals; it's less present in the 2021 rankings, as it is building out the projects begun in 2020.
Alongside these big players, enterprises are present, but on smaller premises, with companies like Schwab and Uber featuring at 5MW or less. "2021 saw an uptick in demand from enterprises but leasing activity remained sluggish. Some companies are adding smaller suburban disbursements (under 30 racks) to accommodate employees working from home instead of at regional offices," commented Kerrigan.
Investment in data center leasing has topped previous years says Kerrigan, commenting that it is "driven by investors fleeing the hospitality, retail, and office sectors."
He also predicts the trend will continue for sale-leasebacks, where an enterprise sells its data center real estate to a specialist firm and remains as a tenant; Flexential has undertaken more than one of these in the last year.