Iberian real estate company Merlin Properties is to break ground on its first data center just outside of Bilbao, Spain.
Cinco Dias reports Merlin is laying the first stone of the data center, called Arasur, near Vitoria this week.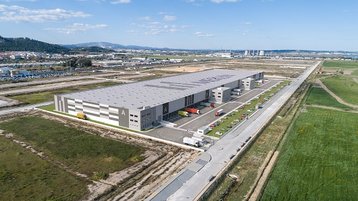 First announced last year, Merlin is developing four facilities on land belonging to the firm in Madrid, Bilbao, Barcelona, and Lisbon in partnership with green energy startup Edged Energy.
The company plans to invest almost €600 million ($606m) to develop 70MW in two phases, although it could reach up to 240MW in the future.
The first 3MW module in Vitoria is set to launch next year. At full build-out, the site could reach 100MW across 17,600 square meters (189,400 sq ft).
Previous reports had suggested the company's first facility would be in Barcelona. However, the company said recently it expects the urban planning licenses to arrive for the Barcelona infrastructure and then Madrid. The first 12MW in Barcelona is set to go live next year.
CD said Merlin has signed the first pre-rental contracts for its three Spanish centers and is in negotiations for another in Lisbon. The first 2MW contract has been signed for Vitoria, with the same operator also agreeing to lease space in Madrid and Barcelona.
Part of an umbrella group called Endeavour, Edged Energy is a newcomer promising "net-zero digital infrastructure" for the Edge. The two companies say the four data centers will be powered by local renewable energy (primarily roof-mounted and ground PV installations), use no water, and promise to have a power usage effectiveness (PUE) of 1.15.
More in Construction & Site Selection