Maryland has denied an exemption from state emissions laws, which would have let Aligned Data Centers install 168 diesel generators at the Quantum Loophole campus in Frederick County.
On Wednesday, the state's Public Services Commission raised concerns about the environmental impact of the proposed generators, which it described as a "500MW diesel power plant," and suggested the company should adopt alternative technologies. Denying the exemption means the data center builder will have to go through the full process of applying for a "certificate of public convenience and necessity" (CPCN).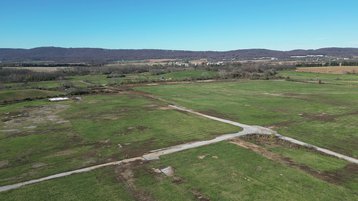 The ruling will raise concerns for other businesses looking to build at the Quantum Loophole site, a 2,100-acre campus of campuses intended to host hyperscale tenants potentially using more than 1GW of power. It comes as the site's owner, Quantum Loophole, has had to pause construction at the site after incorrectly discharging into a river. (Update: This discharge was ruled harmless by The Maryland Department of the Environment, and work soon resumed. An earlier version of this article did not mention this fact, we regret the error).
Quantum Loophole bought the former Alcoa Eastalco aluminum smelting plant in Adamstown for a reported $100 million in 2021, proposing it as an alternative site to the overcrowded hub at Ashburn, Northern Virginia. Just 25 miles north, it lies in a different state, which has offered tax incentives to bring data centers in.
Aligned was the first major data center builder to sign up for the campus in 2022 and announced a significant development with an initial capacity of 23.3 million sq ft and 264MW.
Diesel is the wrong direction
"There's no question that the state of Maryland has made the decision that we think it's a good idea to bring data centers here," Commissioner Bonnie Suchman told the meeting, in which technical and legal representatives of Aligned were grilled over their plans. "But that doesn't obviate the commitment that the state has also made to reducing greenhouse gases - and bringing in new diesel generators is going in the wrong direction."
Staff at the Energy and Analysis Planning Division of the Public Service Commission had advised that the exemption should be granted that treats each 3MW generator as a separate instance which could be justified for occasional use in a rare emergency.
The Commission disagreed. Commissioners Suchman and Tony O'Donnell argued that the generators would never be switched on separately, so they should be treated as a single large (504MW) diesel power plant. They also pointed out that Aligned could not guarantee the generators would not be required for extended periods during extreme weather.
"It is part of our responsibility to ensure that generation choices do not interfere with the need to reduce greenhouse gases," said Suchman, suggesting that Aligned should come back with different backup plans, "because I know that there are other data centers that are doing much more responsible backup generation than what is being proposed here."
Aligned originally had site plan approval on May 10 for a data center with 42 diesel generators, and applied for a CPCN exemption on May 12. The application is for the 42 generators from the approved data center site plan, as well as generators for future data centers in the pipeline.
Aligned said the generators would only be used in cases of power outages, testing, and preventative and corrective maintenance.
Questioned by Suchman, Aligned's director of data center engineering Rick Sparkman said that in the event of a utility outage across the data center campus, all of the generators would start up to provide backup power, rather than only a few turning on.
Suchman responded: "I'm having a lot of trouble understanding staff's position that these are separate entities. To me, this is a power plant on your system. It just looks a little bit different than the traditional central station plant."
Despite Sparkman's assurances that these would only ever be used for backup, Suchman said: "I don't know how a company can say 'we will never be in a situation where we're looking at the price of power and we've made an economic decision that we're going to run these generators and use the system as backup'."
The Commission objected strongly to the use of this many diesel generators, and drew Aligned's attention to alternatives such as fuel cells, larger batteries, or natural gas, some of which are being used by Aligned elsewhere, including a microgrid at its facility in Plano, Texas.
"Have you thought about other more environmentally responsible approaches?" said Suchman. "Because we actually have to do that. That's part of our mandate. When developers come to us asking for approval or an exemption of a certificate, part of the consideration is the environmental impact. And I can tell you that diesel generators are about the worst choice that you can make right now, even if it's for backup, and there are lots of other choices that your company has made in other states, and I'm not understanding why those decisions weren't made better here."
A speaker for Aligned told the meeting: "The company did assess other technologies and unfortunately, they were just not technically or economically feasible for this project."
"So it's okay to go with a microgrid in Texas, but you're gonna saddle Maryland ratepayers and the folks who live around that facility, with the environmental impacts of a diesel generator that's going to be running for days and could be running for weeks," said Suchman. "We don't know, and you can't really guarantee to me that that's never going to happen. And I don't understand, in 2023 why you're proposing a 504MW diesel generator."
Commissioner Tony O'Donnell suggested that some other green energy source could be used to assist the Maryland grid: "Look, we're in a new world," he said. "I don't think any entity could come into Maryland right now, ask for a 504MW diesel generator and get it approved. I just don't believe that's possible."
Quantum Loophole declined to comment.
Aligned sent the following statement: "Aligned's application to install generators was not denied. What was denied was the exemption from the CPCN process, which means that the PSC commissioners want Aligned to go through the CPCN process. The PSC simply decided who – among the PSC, MDE and Frederick County – will make decisions regarding siting and air permitting once an application is submitted. We do not have any comments on next steps at this time."