Maincubes is planning to build another data center in Frankfurt and its first facility in Berlin, Germany.
The company announced plans for its second Frankfurt facility, FRA02, in July 2021. The company has since broken ground on the 7,000 sq m, 20MW data center, which is due to come online in mid-2023. The company also now announced plans for two more German facilities; another in Frankurt and another in Berlin.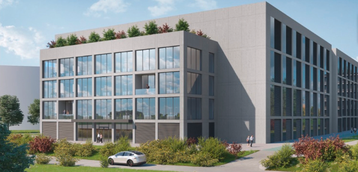 "EXPANSION Maincubes FRA03!! The construction of our Maincubes FRA02 data center in Frankfurt has only just started and we are ALREADY announcing FRA03!!" Maincubes SVP of International Sales Joris te Lintelo said on LinkedIn. In a subsequent post, he noted that "Maincubes BER01 is coming!!"
While it hasn't made any official announcement of the news, the company has updated its site to list both FRA03 and BER01, its first facility in the German capital.
The 27,000 sqm (290,600 sq ft) FRA03 will offer 10,000 sqm (107,600 sq ft) of white space across four floors and 16 data halls, and 16MW of capacity. The company said the facility, to be located in the Schwalbach area of Frankfurt, will have a PUE of below 1.3, use 100 percent renewable energy, and have rooftop solar panels. The data center is due to go live in 2024.
The 16,600 sqm (178,700 sq ft) BER01 will offer 5,100 sqm (54,900 sq ft) of white space across three floors and 12 data halls, and 8.2MW of capacity. Like FRA03 it will feature rooftop solar panels and will also be available from 2024.
Part of German construction conglomerate Zech Group, Maincubes currently operates the FRA01 data center in Frankfurt, and another in Amsterdam in the Netherlands. In 2015 Keppel DC REIT acquired a then yet-to-be constructed Maincubes data center in Offenbach, outside Frankfurt.
More in Construction & Site Selection