German colocation firm Maincubes is to build another data center in Frankfurt.
To be located in Schwalbach am Taunus, just outside Frankfurt, the FRA02 facility will provide around 7,000 sqm of white space for IT plus office space, and will have a power capacity of 20MW.
Operations at the data center are to commence in summer 2023. While it didn't provide a specific number, the company said it was investing "hundreds of millions of euros" into the project.
The company said a "public sector IT client" had already committed to taking up part of FRA02 upon completion.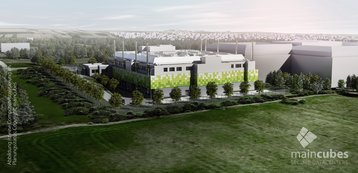 "FRA02 will extend our European data center network with a focus on sustainability, allowing us to make an important contribution to the green digital transformation," said Oliver Menzel, CEO of Maincubes. ""We are excited to have won the confidence of a major tenant for our new FRA02 facility before construction has even started. They selected Maincubes as their hosting partner both for the high-availability data center setup, and because they were looking for a strategic sustainability partner."
Maincubes said that as well as sourcing renewable energy to power operations, the facility will use a cooling wall system that uses large heat exchangers with chilled water flowing through them for air conditioning. For its UPS, the data center will use a rotating UPS systems – known as an isolated parallel bus (IP bus) – and a kinetic flywheel energy storage unit in place of a battery.
The company first announced plans for its FRA02 facility in 2019, but didn't provide a planned completion date at the time.
Maincubes currently operates the FRA01 data center in Frankfurt, and another in Amsterdam in the Netherlands. The company said it was also planning to build additional data centers in the Rhine-Main region.
In 2015 Keppel DC REIT acquired a then yet-to-be constructed Maincubes data center in Offenbach, outside Frankfurt.