Lumen Technologies has closed the $7.5 billion sale of its ILEC (incumbent local exchange carrier) business in 20 states to Brightspeed.
The company has confirmed the sale in a detailed press release, noting the sale as a key part of its strategic plans to focus investments on driving profitable growth.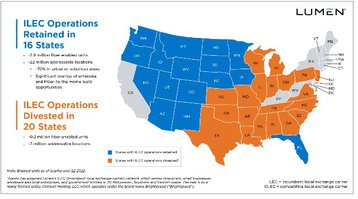 The sale of its ILEC in 20 states includes $1.4bn of Lumen debt that Brightspeed will take on.
An ILEC is a local telephone company (or successor company) that held a regional monopoly on landline service before the market was opened to competitive local exchange carriers.
Lumen, which was formerly known as CenturyLink, will still operate its ILEC business unit in 16 states and has plans to bring its quantum fiber offering to these areas.
The company, which recently appointed former Microsoft president Kate Johnson as its new CEO, will also retain its CLEC (competitive local exchange carrier) networks, national fiber routes, and associated networks in all of these states, plus other strategic partnerships.
"This is an important step in realizing long-term shareholder value while focusing our portfolio on the strongest growth opportunities, including investments in markets where we can concentrate our resources to reach more customers with maximum efficiency," said Lumen president and CEO Jeff Storey.
The deal was first announced in August 2021, with Lumen stating that the sale to Brightspeed, which is owned by Apollo Global Management, will 'sharpen' Lumen's enterprise focus.
Brightspeed is a relatively new Internet service provider that was founded last year. It has already started the roll-out of its fiber network and is planning to target areas that have not historically had fiber. The firm is investing at least $2bn on its fiber network transformation, which will cover more than three million homes and businesses in the next five years.
Last month Brightspeed was awarded more than $90 million to bring broadband to 38,000 premises in 29 counties in North Carolina. The company was awarded the grants from North Carolina's Growing Rural Economies with Access to Technology (GREAT) program.