Lumen Technologies has appointed former Microsoft US president Kate Johnson as its new CEO, president, and a member of its Board of Directors.
Johnson will take over from long-term CEO Jeff Storey from November 7, who is retiring after 40 years in the telecommunications, and technology industry.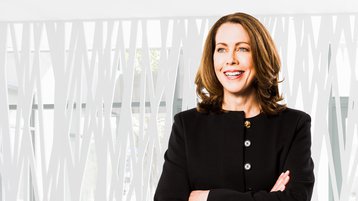 Storey will remain with Lumen - previously known as CenturyLink - until December 31 2022 during the transition period, the company confirmed.
Johnson was recently president of Microsoft US, a role she carried out for four years between July 2017 and August 2021. She's also held leadership positions at Oracle, GE, and Red Hat.
At Microsoft, Johnson led a team of more than 10,000 people and was responsible for growing Microsoft's solutions, services, and support revenues across the US.
"Lumen has made significant progress strengthening its balance sheet, expanding its fiber footprint, and enhancing its portfolio of digital capabilities," said Johnson. "I'm looking forward to leading this great company through its next chapter and helping customers leverage the Lumen platform to power amazing digital world experiences."
Storey will depart Lumen after nine-and-a-half years as the company's CEO. He was previously CEO of Level3 prior to its merger with CenturyLink, and CEO of WilTel Communications before that.
"Throughout my time with the company, I have been incredibly impressed by our team's commitment to Lumen and to our core purpose of furthering human progress through technology," he said. "I am confident that the organization has the strategy in place to deliver on its priority of achieving profitable revenue growth."
Johnson's arrival comes eight months after Lumen was awarded a task order worth more than $1.2 billion to deliver a fully integrated wide area data transport service to more than 9,500 USDA locations across the US, and around the world.
The contract will see Lumen offer secure remote access, contact center, and cloud connectivity solutions to the USDA sites.
Earlier this year Lumen launched its Edge platform in Europe, offering low latency connectivity to support data-intensive applications at the cloud edge. The service is available in the UK, France, Germany, Belgium, and the Netherlands. Last year it sold its Latin American business to Stonepeak for $2.7 billion, which in turn rebranded the acquired unit to Cirion.
More in Workforce & Skills