South Korean telco LG Uplus has broken ground on a new hyperscale data center.
The Pyeongchon 2 Center will be located in Anyang city in Gyeonggi Province to the south of Seoul.
The 21-story facility will have three stories below the ground and nine above, and have a total floor area of 40,450 square meters, which the company says will have room for more than 100,000 servers
The company says it has already broken ground on the facility, which is due for completion in Q3 of 2023.
Regulatory filings reported in May showed LG Uplus was planning to invest more than 300 billion won ($267.9 million) in a new data center facility.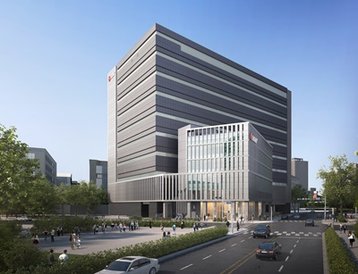 LG said customer requests during the design phase led to the company eschewing a raised floor for a specialized air conditioning system instead.
"The raised floor was removed, and a new air conditioning system that supplies cold air directly to the server maintains a uniform temperature in the server room and minimizes hot spots with high temperatures at specific points," the company said. "In this structure without a raised floor, it is convenient to work in the computer room, which is highly preferred by customers."
As well as utilizing free-air cooling, LG will use geothermal energy for heating and cooling its office building, and will use both solar power and fuel cells for the data center. The company said it will also optimize water consumption by 'establishing a system that can monitor water consumption for cooling and humidification.'
Part of LG Corp, LG Uplus is the third-largest mobile operator in South Korea. Previously known as LG Telecom, it adopted the Uplus name in 2010 after merging with two other LG telecoms subsidiaries, Dacom and Powercom.
LG Uplus currently operates four colocation data centers — three in southern Seoul and one in Anyang, to the south of the capital. Earlier this year, CEO Hwang Hyeon-sik vowed the company would focus on new businesses aimed at corporate customers.