LG CNS, an IT services subsidiary of LG Corp, has signed an agreement with Igis Asset Management to develop data centers.
The South Korean IT company announced last week it had partnered with the investment firm to develop new businesses such as cloud data centers and urban logistics centers (including micro fulfillment centers, aka MFC).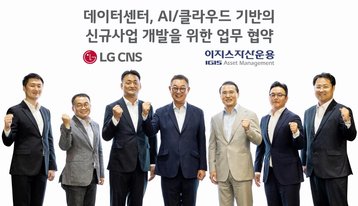 Through this MoU, the two companies said they will work to expand the construction of cloud data centers at home and abroad, build an urban logistics center, and expand new AI and cloud-based businesses.
The signing ceremony was attended by LG CNS CEO Hyun Shin-kyun, cloud business division executive director Kim Tae-hoon, Igis Asset Management CEO Kang Young-gu, and Igis Asia CEO Oh Hyun-seok.
LG's Hyun Shin-kyun said: "We will lead future business by combining LG CNS' digital transformation capabilities, such as cloud data center and MFC, with the investment expertise and know-how of Igis Asset Management, Korea's largest real estate asset management company."
Igis' Kang Young-gu added: "Based on strategic collaboration with LG CNS, we will continue to create futuristic real estate and infrastructure such as data centers and logistics centers to maximize the utility value of assets."
LG and Igis will cooperate in the data center and cloud service space through LG CNS's digital transformation technology offerings and Igis Asset Management's investment assets. The two companies said they are currently working together to build large-scale data centers in South Korea, including the Hanam Data Center and Samsung Data Center.
LG CNS was founded in 1987 and provides information technology services. It launched South Korea's first dedicated data center building – the Incheon Data Center – in 1992. Today it operates four locations including in Sangam, Busan, and Gasan, and three sites internationally.
Founded in 2010, Igis Asset Management is a major asset management company in APAC. It has close to $50 billion in assets under management; almost four percent is invested in data centers. The firm closed its second data center fund earlier this year, closing with $151 million in investment.
Last year Canada Pension Plan Investment Board (CPP Investments) and Pacific Asset Management formed a new joint venture to develop a hypescale data center in Seoul.
Upon completion in June 2024, the Jukjeon Data Centre will be operated by LG CNS. The facility will span 99,070 square meters (1 million sq ft) and consist of four above-ground floors and four below-ground floors to provide commercial space for cloud service, Internet service, and information technology companies.
LG Uplus, LG's telecoms unit, currently operates four colocation data centers — three in southern Seoul and one in Anyang, to the south of the capital. It broke ground on the 40,450 sqm (435,400 sq ft) Pyeongchon 2 Center in Seoul in June 2021.