Chinese IT equipment vendor Lenovo has launched a subscription service for its data center products, enabling customers to deploy and refresh hardware and software without having to purchase it outright.
With Lenovo TruScale Infrastructure Services, businesses can pay for their servers, storage arrays, and networking switches on a monthly basis, as part of their operating expenses, even when their IT is hosted in a colocation environment.
"Our offering can be applied to any configuration that meets the customer's needs – whether storage-rich, server-heavy, hyperconverged or high-performance compute – and can be scaled as business dictates," said Laura Laltrello, vice president and general manager of Services at Lenovo Data Center Group.
TruScale is available immediately, worldwide.
Glorious OPEX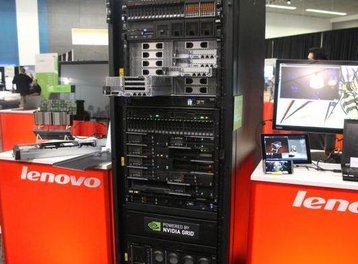 Lenovo is one of the world's largest suppliers of computer equipment: according to both IDC and Gartner, the company shipped more PCs in the fourth quarter of 2018 than any of its competitors, and its server business is a regular fixture in the global Top 5.
TruScale enables Lenovo customers to get their hands on the latest equipment without the need for any capital investment - and only pay for capacity when their workloads are actually running.
The service extends to both ThinkSystem – Lenovo's traditional x86 server, storage and networking product range - and ThinkAgile, the company's hyperconverged system line-up. It also includes hardware installation, deployment, management, maintenance and removal.
Lenovo says TruScale enables companies of any size to rapidly scale their infrastructure investments up or down, depending on the needs of the business.
Customers can track their usage in real-time through a proprietary metering solution which is based on power consumption, and there is no minimal capacity commitment.
"By eliminating the capital expense of purchasing IT equipment and replacing with a subscription model, customers can now focus on supporting their business growth, knowing that they'll have the right flexibility across their environment," said Roderick Lappin, Senior Vice President and Chief Customer Officer at Lenovo Data Center Group.
"Lenovo TruScale Infrastructure Services combines the economic flexibility of cloud with the security of on-premise data, giving customers more agility, efficiency and simplicity in how they operate."