A landslip has caused severe cable damage for Openreach, as engineers continue working to fix the issue.
The incident happened last week in Swanscombe, a village in Kent, UK. It has led to connectivity issues for around 1,500 homes and businesses in the area.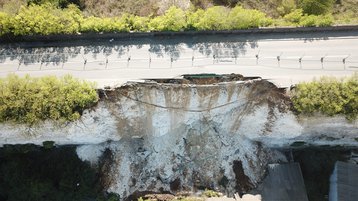 The damage from the landslip in Kent has caused severe damage to the road surface, plus the warehouses below where the debris has fallen onto the buildings.
This incident has led to cables and pipes being left exposed above the road.
"Our engineers have been working hard to get customers back online and have diverted our phone and broadband network wherever possible, restoring service for hundreds of customers. But this is a complex repair job with both copper and fiber-optic infrastructure involved, so it's going to take us a few days to get it sorted out. We believe around 1,500 customers are still impacted," said Openreach in a statement.
"We understand how frustrating this must be for anyone affected and we thank anyone involved for their patience while we get things fixed. Anyone experiencing any disruption with their phone or broadband service should do their best to report it to their service provider who will then inform us."
As it's been a few days since the incident, DCD has contacted Openreach for an update and is awaiting a response.
Last month Openreach hit its 10 million full fiber build milestone.