Korea Telecom Corp (KT) plans to enter the Thai data center market by building a hyperscale facility with Thailand's Jasmine Group.
The facility will be built by both KT and the group's subsidiary Jasmine Telecom Systems (JTS). When built, the data center will be rolled into a new Internet Data Center (IDC) business.
KT and Jasmine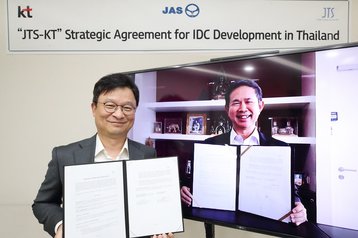 Currently, the location and price of the prospective data center are unclear, but both KT and JTS will co-develop and finance the facility - it is understood the data center will be launched in late 2021.
"This IDC business partnership with JTS is a great opportunity for KT to prove its business capability in the global market," said Kim Youngwoo, head of KT Global Business. "We are ready to expand our outreach to global markets through our endeavor in Southeast Asia, which is a newly emerging IDC market."
In March this year, KT signed a $19m contract with Jasmine Group's other affiliate, 3BB TV Co, to provide commercial IPTV (Internet Protocol TV) services in Thailand.
JTS president and director Somboon Patcharasopak said: "The hyperscale data center and cloud service business will be a foundation to add value to Jasmine Group's network business. Through the joint development of the IDC business, we look forward to long-term cooperation with KT."