South Korean online giant Naver plans to build a cloud data center near Sejong City, with designs that refer to a nearby native village heritage site.
Naver announced the planned $420 million (500 million won) facility in October 2019, after strong opposition from residents forced it to abandon a previous plan for a data center in Yongin, Gyeonggi Province, according to Korea Times. Like the company's previous data center "Gak" in Yongin, the new site has an architectural design which uses natural cooling where possible, and references local history and architecture.
The architect, Behive, has published plans for a 250,000 sq m facility which "floats" on the mountainous site and uses the local air circulation, as well as thermal mass and ice storage to minimize air-conditioning. It could be in operation by early 2022, according to earlier announcements. DCD has contacted the company to ask if the Covid-19 pandemic will change this schedule.
Hovering ring of cloud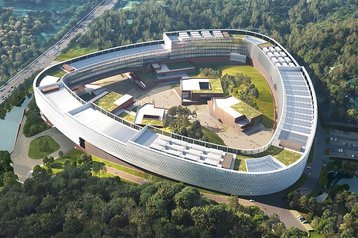 Taking its cue from the "cloud," and the uneven mountainous location, the architects have produced a design which "is hovering above the valley like a cloud,' according to Behive, which also says on its site that it was "inspired by the World Heritage Site of Korea, the Hahoe folk village," also built in the embrace of mountains.
The sloping site takes in a height difference of over 50m, so the design puts the data center halls in a level ring above ground level, which makes their layout more "straightforward and efficient," says Behive. The site also has a control room, conference center, learning center, and exhibition space, which are "cascading down the valley" in a design that "takes the metaphor of the village, and develops into a learning community protected by the data."
The outer ring has a multi-layer curtain wall; the outside layer has a screen patterned with perforations which reflect the geometry of the overall project. Air enters through these holes and is purified, and cooled by passing through an integrated water curtain system before entering the server room. The "village" buildings are made of tinted concrete, a "humble and solid material" which echoes traditional Korean buildings and "rocks growing from the earth."
The three curved segments of the ring will be built in separate phases, and offices and gardens will be placed where they join.
At the entrance, a lake reflects the cloud ring, and also doubles as an eco-friendly protective moat along with the protective wall system, says Behive. The site is also protected from disasters, with a buffer zone. It includes a fire-prevention drencher.
For cooling, air comes in through the outside skin, and then is purified with a water drencher, which removes fine dust and pollen, while also cooling the air. The water in the curtain is provided by recycling rain water captured on the facility's roofs. Additional cooling comes from "thermal mass."
In Sejong's climate, outside air is sufficient for 72 percent of the year. During this period, to ensure a 22C input, and a 24C temperature in the server room, the outside air will be mixed with hot exhaust air from the server room.
For the other 28 percent of the year - July and August, and hot days in May, June, and September - additional cooling will be provided from various sources, including ice storage, an air-side economizer and a chiller. Each phase of the data center will have three large concrete slabs in the ground underneath it for "thermal mass cooling." These 34x20x2m slabs can save around 3000 kWh per day, 245,700 kWh during the year, says Behive in its plans. That's the equivalent of 125kW per day or 28kW over the year. The roofs of the data center will also radiate heat at night using the valley's summer wind, removing some 348kWh per day.
The site will also have 22,000 sq m of solar panels, generating some five million kWh per year. That's about 570kW of generation, which is apparently 2.5 percent of the HVAC energy consumption (which would suggest HVAC systems using about 23MW of power).
Waste heat goes first to the site's own indoor greenhouses, as part of an elaborate plan for energy reuse. According to the plans, hot air leaves the server room at 36C, to be heated with heat pumps and passed through heat exchangers. In winter, it will be used for the site's greenhouses, space heating, domestic hot water, and melting snow on the surrounding roads. "Considering distribution cost and heat loss, we suggest providing 36C hot air for end users nearby (within 200m) and 28C hot water for end users further away. These two heating sources from Naver data center will benefit the neighborhood, by providing free heat for direct use and for pre-heating municipal water", the plan says.
The data center will use hot aisle containment; each server room has 14 aisles with 64 racks in each, adding up to 644 racks for each of the server room. There will be eight server rooms (around 5,000 racks) in each phase of the ring. When all three phases are built, there will be 15,456 racks. There will be dual power channels, fed from each end of the server room, and air-conditioning units between the server rooms.
Naver plans to use robot maintenance, with robots for monitoring, patrol/guidance, transportation, maintenance, and "destruction" (according to the notes on World Architecture). A corridor has been designed to allow robots and humans access.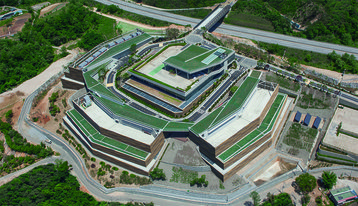 Beautiful precedent
Naver's first data center, in Chuncheon, Gangwon Province, was designed after a library, and named "Gak," after Janggyeonggak at the Haeinsa Temple which has preserved some 80,000 woodblocks containing Buddhist historical records. It was a contender in DCD's 2017 contest to find the most beautiful data centers in the world, and it seems that the Cloud Ring may have arrived in time for this year's repeat contest.
The company wanted to build its second data center in Yongin close to Seoul, but this plan was scrapped in June 2019 after local opposition, according to Korea Times, leading it to create a shortlist of willing locations in September, choosing Sejong after on-site inspections in October.
This time around, the reception seems smoother: "I expressed my gratitude to the 34,000 citizens of Sejong for supporting us during the bidding period," Sejong Mayor Lee Chun-hee said in a statement last October. "We will provide all support to Naver so that the company can establish its data center, which provides infrastructure for the high-tech industry, without any issues."
Designs for the new site have been posted by the architects on DesignBoom and World Architecture.