Generator manufacturer Kohler has adopted Hydrotreated Vegetable Oil (HVO) at its generator test site in France.
Kohler Power Systems, part of Kohler Co., has announced that its manufacturing plant in Brest has switched all its fuel usage in diesel engines from conventional fossil diesel to HVO.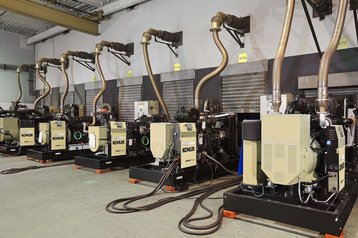 HVO is a synthetic paraffinic diesel, made from vegetable oils or waste reprocessing with added hydrogen. It is a drop-in replacement fuel that can be used without modifications to existing engines.
Effective immediately, the change means that 325,000 liters of fossil diesel that was previously burned at the site each year is now replaced with HVO. While HVO had previously been used at the Brest site for small-scale development testing within the lab, the company said it is now available for all generator testing.
"Taking into account all sources of carbon emissions, including lighting and heating, the shift to HVO has enabled the Brest plant to reduce its overall CO2 emissions by up to 50 percent," said Lenaik Andrieux, general manager of Kohler Power Systems, EMEA.
Typical tests at the Kohler site include a generator running for 24 or 72 hours. The company said the fuel swap means a reduction of CO2 emissions by approximately 750 tonnes and a reduction in greenhouse gas emissions by up to 90 percent, depending on the raw materials used to make the HVO.
The company said it has secured a supply agreement from an unnamed 'major provider', which keeps large amounts of HVO at a local storage depot near the Brest site.
Last year Kohler announced that all its mission-critical diesel generators could run on HVO with no modifications.
A number of companies are looking to diesel alternatives as a way to reduce their carbon footprint. UK operators Kao and Datum, Digital Realty/Interxion France, Compass in the US, as well as Belgium's LCL and Latvia's DEAC, are all looking to adopt HVO as fuel for their backup generators.