Belgian data center firm LCL has adopted hydrotreated vegetable oil (HVO) to replace diesel for its backup generators.
The company this week said it would initially be adopting the bio-diesel at LCL Brussels-West in Aalst, where the company recently invested in six new 2.25 MVA generators. The facility currently has eight backup generators; six new ones that will run on HVO and two older models of 1MW.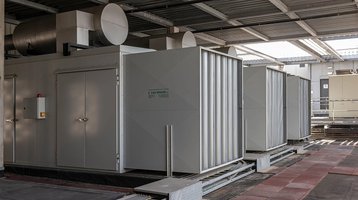 HVO is a synthetic paraffinic diesel, made from vegetable oils or waste reprocessing with added hydrogen. It is a drop-in replacement fuel that can be used without modifications to existing engines.
LCL aims to have all the generators at its five data centers operating on HVO100 in the future. It said it is the first data center firm in Belgium to adopt HVO.
"Using HVO100 enables a 90 percent reduction of CO2 equivalent emissions from the generators. In total, this represents a reduction of 72 tonnes of CO2. Put simply, HV0100 is wholly renewable," said Laurens van Reijen, Managing Director of LCL Data Centers. "We are striving hard to be an example for the other Belgian and European players in our sector. We also hope to send a signal to our existing and potential suppliers to make their own organizations more sustainable."
A number of companies are looking to diesel alternatives as a way to reduce their carbon footprint. UK operators Kao and Datum, Digital Realty/Interxion France, Compass in the US, and Latvia's DEAC are all looking to adopt HVO as fuel for their backup generators. Kohler recently approved all its gensets to run on vegetable oil.
HVO100 is produced from 100 percent renewable raw materials that are not used for food purposes: vegetable oils (including used frying fats), animal oils, wood waste, and pulp.
The company is working with Eneria, a subsidiary of the Monnoyeur Group and Caterpillar dealer.
Tim Bisson, Director of Eneria Belux, said: "We were delighted to receive the request from LCL Data Centers to make its backup generators operate on HVO100. The Caterpillar generators have been fully tested on our premises, in line with the very specific requirements of LCL. We tested their operation with diesel, HVO100, and a blend of the two fuels. Our conclusion was that, whatever fuel is used, the performances – in other words, the power, reactivity, and emissions – of the generators fully remain the same."
Bisson noted that with HVO100, the generators consume around five percent more fuel, due to the small difference in energy density between HVO100 and regular diesel. Other users of HVO have told DCD the fuel is more expensive than traditional diesel - usually between 10-15 percent higher.