Kio Networks has broken ground on a new data center in the Valencian city of Paterna in Spain.
The Valencian Generalitat this week announced the Mexican data center firm has begun work on a new facility in the Paterna Tactical Park. The company is reportedly investing €50 million ($53.5m) in the project.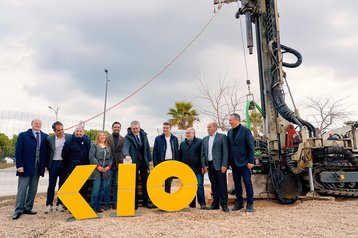 Originally announced in September 2022, the facility will offer 1,000 sqm (10,760 sq ft) of data hall space and be built to Tier IV quality. It will utilize geothermal energy, most likely through certificates.
Javier Jarilla, general director of Kio Spain, said: "Decentralization is an added value and differentiator so we have opted for Paterna as the headquarters for our new data center."
The mayor of Paterna, Juan Antonio Sagredo, thanked "Kio's commitment to the city and for choosing it as a privileged enclave to continue growing in companies that face the challenges of data processing with the maximum guarantees of security, weather, connectivity, and technological knowledge that Paterna offers."
Arcadi España García, councilor of finance and economic model at the Generalitat, added: "We are committed to an entrepreneurial Generalitat that firmly trusts in the transformation of the productive model, in the promotion of R+D+I, digitization, and the competitiveness of our companies in order to achieve more employment opportunities, more growth, and greater well-being."
Kio currently operates a one data center in Spain; located on the Espinardo University Campus in Murcia and launched in 2014, the ESP 1 facility offers 172 sqm (1,850 sq ft) and 193kW across a single data hall.
Founded in 2002 and owned by I Squared Capital since 2021, Kio operates eight core data center sites in Mexico as well as facilities in Panama, Dominican Republic, and Guatemala. Kio previously had two facilities in the US, but sold them to Zayo in 2017; both are now operated by DataBank.