Kenyan mobile operator Safaricom has secured a Sustainability Linked Loan (SLL) of up to 20 billion ($137 million) Kenyan shillings from a consortium of Kenyan banks.
The operator claims it is the largest ESG linked loan facility ever undertaken in East Africa, and the first of its kind for Safaricom.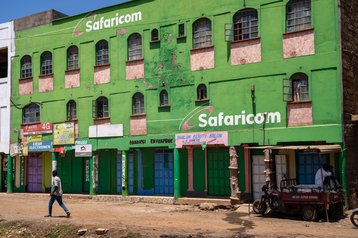 Funding has been provided by four banks consisting of Standard Chartered Bank, Stanbic Bank, ABSA Bank, and KCB Bank.
"In line with our focus to advance our sustainable business agenda, this funding will unlock our ability to create more diversified investments that will support transformative investments in new technologies, systems, and services that allow us to comprehensively manage our ESG footprint," said  Peter Ndegwa, CEO, Safaricom PLC.
According to Safaricom, the investment is expected to contribute to the growth of Kenya's sustainable financing market, which Kenya's government is pushing as part of its Vision 2030 plans.
"This deal is a significant milestone for Safaricom as it aligns our financial strategy with our Sustainability agenda, a reflection of our commitment to transforming lives by partnering for growth," Ndegwa added.
Safaricom notes that the loan will enable it to focus on reducing emissions as part of its ongoing transition to becoming a fully-fledged technology company by 2025.
Founded in 1997, Safaricom is the biggest mobile operator in Kenya with over 40 million subscribers. It is partly owned by South Africa's Vodacom and the UK's Vodafone. Last year the operator expanded into Ethiopia, launching mobile services in the country.