Kenyan telecoms firm Safaricom has launched mobile services in Ethiopia and become the first private investor in the country's telecoms market.
The telco has marked the launch of Safaricom Ethiopia by switching mobile services on in the country's capital Addis Ababa.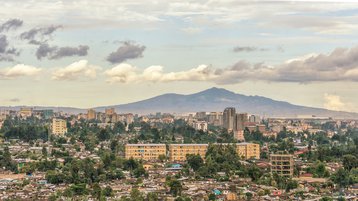 Safaricom's move into the Ethiopian market makes it the first private investor in what is one of the continent's biggest telecoms markets, owing to its sizable population of around 118 million people.
Its entrance will also provide state-owned Ethio Telecom with competition. According to Statista, Ethio had 54.3 million mobile subscribers in the 2020/21 financial year.
Safaricom confirmed its 2G, 3G, and 4G services are available in 11 cities, including the country's second-biggest city Dire Dawa.
The operator has plans to launch services in 25 cities by April 2023, which will see it meet its obligation to provide 25 percent of the country with mobile services, as part of terms to gain a license in the country.
In a press release, the company revealed its building a wholly-owned mobile network, while it has infrastructure-sharing agreements with rival operator Ethio.
Safaricom leads a consortium that includes Vodafone Group and Vodacom, plus Sumitomo Corporation – one of the largest international trading and business investment companies; and British International Investment (BII) - the UK's development finance institution and impact investor.
"Led by our purpose to transform lives, we have deepened digital and financial inclusion in Kenya by connecting people to people, people to opportunities, and people to information," said Safaricom PLC CEO Peter Ndegwa.
"With these lessons and experiences, we look forward to positively impacting the people of Ethiopia with a sustainable and quality mobile network that will be a vital launch pad for nationwide digital telecommunications services to over 118 million Ethiopians."
The company is developing a number of data centers in the country to support its network roll-out.
Ethiopia's grand telecoms plan
Back in 2020, Ethiopia's government approved the Digital Ethiopia 2025 strategy that will see the country look to push its digital transformation.
It was because of this strategy that Safaricom Ethiopia was granted a license to operate in the country, says the operator.
The Ethiopian government has identified the potential growth that the telecoms industry can provide the country with the government keen to partially privatize Ethio Telecom, with a 40 percent stake of the state-owned operator said to be up for grabs in the future.
Earlier this year Ethiopia Prime Minister Abiy Ahmed postponed the process, citing economic challenges, reported Reuters, but is said to be keen to tap into the country's telecoms industry to 'liberalize the economy of the nation.