Japan Renewable Energy Corporation's (JRE) entirely solar-powered data center is now operating stably.
The data center, built on the grounds of JRE's solar power plant in the Nagano prefecture of Japan, is now running smoothly after launching operations in December 2022.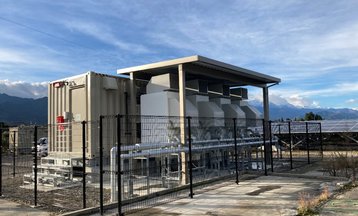 The containerized facility was designed and built by Mirait Corporation, an ICT-specialized construction company that was founded in 1944.
The data center is the first of its kind for JRE and will be home to distributed cloud computing solutions providers Morgenrot Inc, from which the company will provide its M:CPP (Morgenrot Computing Power Pool) GPU cloud service.
Morgenrot builds green data centers around the world which specialize in GPU solutions, offer distributed computing technology, and are powered by renewable energy.
JRE's Nagano Omachi Solar Power Plant has an installed capacity of 2,443kW, and a planned output annually of 3,500,000kWh.
Though the power requirements of the facility weren't shared, the containerized data center accommodates 40 AMD and Nvidia GPU servers and uses a chiller-less cooling system, instead drawing water from a nearby well to cool equipment. The data center does not use any CFC refrigerants and creates zero Co2 emissions (beyond embedded emissions from construction and equipment). According to JRE, the data center has a PUE of 1.1.
The data center is the result of a joint project announced between JRE and Morgenrot in June 2022, and will be optimized for artificial intelligence and simulation applications as well as Morgenrot's GPU cloud service.
Just prior to the project announcement, Japan's Ministry of Economy, Trade and Industry announced that over 100 regional governments were volunteering to offer data center locations to support the country's plans to decentralize its data center industry. The decentralization was necessitated by increasing demand for data center services while 60 percent of the country's data centers were located near Tokyo, a city at high risk of earthquakes and Tsunamis, and therefore outages.
In February 2023, another company deployed solar panels at its Japan-based data center. Internet Initiative Japan Inc deployed solar panels at its Shiroi campus, though they were only predicted to provide enough power to cover three percent of the facility's needs. NTT is also planning a solar panel roll-out across its Japanese data center portfolio. KDDI is also exploring the use of perovskite solar cells, but for use at its base stations in partnership with Enecoat Technologies.