Indian telco Reliance Jio has outlined its intentions to invest INR 2 trillion ($25bn) to rollout its Standalone 5G network across the country by the end of 2023.
The comments were made during the company's AGM, with chairman Mukesh Ambani bullish over plans to connect more than 1,000 cities with 5G.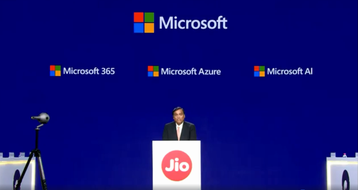 Jio's 5G push follows its acquisition of $11 billion of spectrum in the 900MHz, 3,500MHz, and 26GHz bands last month, with its 5G network set to launch in Delhi, Mumbai, Kolkata, and Chennai by October of this year in time for Diwali.
Speaking at the AGM Ambani said: "Subsequently, we plan to increase the Jio 5G footprint month after month. By December 2023, which is less than 18 months from today, we will deliver Jio 5G to every town, every taluka, and every tehsil [administrative districts] of our country."
During the AGM Ambani also announced a number of new partnerships with Meta, Google, Qualcomm, and Microsoft.
The partnership with Google will see Reliance Jio to develop affordable 5G smartphones in India, while the Qualcomm partnership will enable the telco to develop homegrown 5G solutions.
Jio also unveiled its fixed wireless access solution AirFiber to offer cloud computing on its 5G network.
Rival telco Bharti Airtel spent $5.4bn during the same spectrum auction last month on spectrum in the 900MHz, 1800MHz, 2100MHz, 3300MHz, and 26GHz bands. Bharti selected Nokia, Ericsson, and Samsung as its 5G equipment suppliers.