Iron Mountain is expanding its data center campus in Virginia.
Inside Nova reports a firm known as KH Data Capital Development is seeking a revision to the conditions of the industrial zoning on its 37-acre property off Wellington Road between Gainesville and Manassas. The company's proposal, submitted in June, is for 1.6 million square feet of data center uses on a vacant part of the property.
The development is adjacent to Iron Mountain's Virginia campus, and the signs point to KH likely being a subsidiary of the data center firm.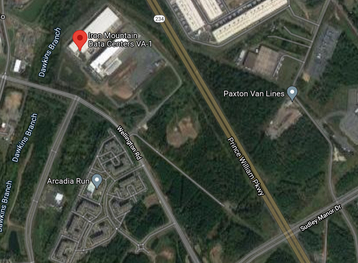 A company called KH Data Capital Development Land, LLC is listed as an Iron Mountain subsidiary with the SEC, and Iron Mountain is listed as the payment contact on the PWC project ePortal for KH. The two companies are also both registered at the same building in Boston.
The three data center buildings proposed by KH Data Capital would be VA3, VA4, and VA5, which fits the naming convention of Iron Mountain's existing facilities on its Virginia campus.
First announced in 2016, Iron Mountain said it would develop $350 million of data centers in Prince William County 'over several years.' At the time the company said it would establish a 60MW data center campus on 83 acres at 11650 Hayden Road that would feature three buildings totaling 375,000 square feet, but noted there was 'future growth capacity.'
So far the company has brought two facilities online. It opened the $80m VA-1 in 2017, covering 165,000 sq ft (15,000 sq m) and a capacity of 10.5MW. It announced it had broken ground on VA-2 in 2019; the facility offers 221,500 sq ft of space and 24 MW.
Iron Mountain hasn't made any public announcements about beginning work on a third building nor any official plans to expand the campus beyond the three initially announced buildings.
DCD has reached out to Iron Mountain for comment and will update accordingly.
More in Construction & Site Selection