Iron Mountain has filed to develop a new data center on land in Prince William County, Virginia.
According to a filing with the US Army Corps of Engineers' Norfolk District, the company is seeking to develop a data center on 24 acres of land northeast of the Prince William Parkway and Sudley Manor Drive intersection and west of Bethlehem Road.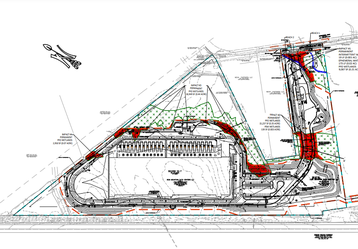 The single-building project, known as Iron Mountain DC2 and VA-7 in diagrams, would require an investment of $100 million. Specifications and timelines weren't shared.
The filings suggest several hundred linear feet of streams and just over 1 acre of wetlands will be permanently impacted by the development. The company said there is no alternative build site and would incur a "substantial financial loss" in funds already committed to site acquisition, revenue due to the loss of leasable space, and the potential loss of a client due to an undeliverable product.
Iron Mountain currently operates two data centers in Manassas, Northern Virginia, known as VA-1 and VA-2 on Hayden Rd, on land to the west side of Prince William Parkway opposite to the proposed site.
Last year the company filed to rezone a further 37-acre property off Wellington Road, also on the west side of the parkway and to the south of the existing Iron Mountain facilities, for up to three more data center buildings. VA3, VA4, and VA5 would offer around 1.6 million square feet (148,650 sqm) of data center development.
First announced in 2016, Iron Mountain said it would develop $350 million of data centers in Prince William County 'over several years.' At the time the company said it would establish a 60MW data center campus on 83 acres at 11650 Hayden Road that would feature three buildings totaling 375,000 square feet, but noted there was 'future growth capacity.'
So far the company has brought two facilities online. It opened the $80m VA-1 in 2017, covering 165,000 sq ft (15,000 sq m) and a capacity of 10.5MW. It announced it had broken ground on VA-2 in 2019; the facility was originally set to offer 221,500 sq ft of space and 24 MW.
Late last year the company announced it had signed a 20MW lease with an existing 'Fortune 100 Company' for VA-2; at the time Iron Mountain said the lease was expected to commence in phases from mid-2022 through mid-2023 and VA-2 is expected to support 36MW.
Iron Mountain hasn't made any public announcements about beginning work on a third building nor any official plans to expand the campus beyond the three initially announced buildings.
The Army Corps is seeking comments on the proposal, which should be submitted by the close of business on November 5, 2022