Big tech firms have banded together to oppose moves to ban new data centers in Ireland.
The Cloud Infrastructure Ireland group, which includes Amazon and Google, has argued to the Irish utilities regulator that the country should not pause new data center building, according to a report in the Irish Times.
The move comes shortly as data center building in Ireland is being criticized for jeopardizing the country's plans to reach carbon neutrality, by using a disproportionate amount of its electricity generation capacity. A moratorium on new data center building had been proposed by People Before Profit, a left-wing / green party with representatives in the Irish government. The group has formed shortly after the environmental group An Taisce blocked Amazon's bid to build a second data center in Drogheda.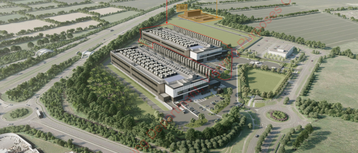 Data centers' Irish power struggle
The Irish grid, EirGrid, has said that data centers are a key driver for increased electricity use in Ireland, increasing sharply while other uses remain flat. EirGrid says it has agreements in place for 1,800MW of new data centers, with up to 2,000MW of additional requests received - compared to a total peak demand in Ireland for 5,500 MW. The grid operator warned that if nothing is done, the country could face "rolling blackouts."
Ireland's Commission for Regulation of Utilities (CRU) launched a consultation on data center grid connection on 7 June. It asked for comments before 7 July, on proposals which included the possibility of a moratorium on new data centers for a number of years - although the CRU said it would prefer to continue with measures to minimize the impact of data centers on the grid.
"Data centers and the demand load they require are having a major impact on the Irish electricity system currently and into the foreseeable future," said the CRU consultation document. "Data centers can bring benefits to the Irish economy. However, as large consumers of electricity, they can also pose a particular challenge to a sustainable and secure power system.
Shortly after CRU's consultation began, People Before Profit laid a bill before the Irish parliament, the Dáil, which would ban data centers along with other infrastructure in Ireland, raising the profile of the issue. The Planning and Development (Climate Emergency Measures Act) 2021, introduced by Deputy Brid Smith, would place an absolute ban on data centers, Liquid Natural Gas plants, and new fossil fuel-related infrastructure, addressing 'glaring gaps' in the Government's own Climate Bill, according to People Before Profit.
According to the Irish Times, the Cloud Infrastructure Ireland group argued against a moratorium in its submission to CRU, saying: "A moratorium on processing data center applications in Dublin is the least desirable of the current options under consideration."
The paper says the group has formed under Ibec, the Irish business lobby, although it is not mentioned on Ibec's site - DCD has contacted Ibec for more details.