Internet infrastructure provider Internap suffered a system wide outage for roughly an hour.
The cause of the outage is still unknown, with the crash also impacting the company's own website and support phone lines.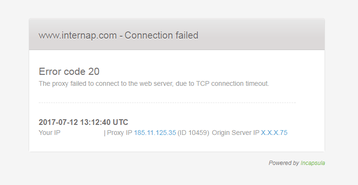 Off and on again
"So is your entire infrastructure offline?," one customer asked on Twitter. "Because both of my IP circuits definitely are, along with your website and phones."
JMC Consulting wrote: "Our internet services are down. Also I am unable to connect to [your] website."
Tennis Recruiting said that the outage affected its services at 8:39AM EDT, with users reporting a return to normal at around 9:28AM.
An Internap customer service representative told DCD in a statement: "We are experiencing technical issues at this time and are working to resolve these as soon as possible.
"An incident report will be published to all impacted customers in due course*… we are seeing equipment come back online so it looks like it's been resolved."
Internap had a similar outage in 2014 at its 111 8th Avenue facility, bringing down live broadcasting website Livestream.
In 2015 the company spoke to DCD about its Secaucus, New Jersey data center and how Superstorm Sandy helped it decide to place the facility on a hill to make it more reliable in times of flooding.
Internap operates over 700,000 square feet of data center space across 20 markets.
*Should you be a customer and wish to anonymously share the incident report with DCD, please let us know at tips@datacenterdynamics.com