Intel has fully killed off its Optane Memory business, a line of memory that was slightly slower than RAM but offered persistent memory and high input/output operations per second.
The company said that it would incur a $559 million inventory impairment/write-off as it exits the business.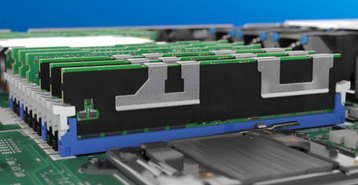 "We continue to rationalize our portfolio in support of our IDM 2.0 strategy," Intel said in a statement. "This includes evaluating divesting businesses that are either not sufficiently profitable or not core to our strategic objectives. After careful consideration, Intel plans to cease future product development within its Optane business. We are committed to supporting Optane customers through the transition."
Back in 2020, Intel sold off its NAND memory chip business to SK Hynix, but kept onto Optane - a product line built out of its 3D XPoint technology it developed with Micron in 2015.
Intel developed a line of Optane SSDs and persistent memory DIMMs based on the technology, which saw some uptake in the data center market, but was a complete failure in the consumer space with the company ceasing production in January 2021.
Micron sold off the 3D XPoint fab it operated in 2021, and left the market.
That just left Optane persistent memory DIMMs and data center SSDs - until now. Intel is believed to have stopped manufacturing Optane products since Micron's departure, but has two years' worth of supplies on hand that it had tried to offload over the past year.
Intel's exit came as part of a poor quarter for the company, which is in the midst of trying to reinvent itself as a chip foundry and keep momentum with AMD.
Despite the passage of the CHIPS Act this week, shares fell by more than 11 percent as it announced revenues dropped 22 percent to $15.3 billion - far below analysts' expectations.
Instead of making $5bn like this time last year, it lost $454m (being pushed into negative by Optane).
"This quarter's results were below the standards we have set for the company and our shareholders," CEO Pat Gelsinger said, blaming both internal "execution issues" and the global economy.
CFO David Zinser added: "We are taking necessary actions to manage through the current environment, including accelerating the deployment of our smart capital strategy, while reiterating our prior full-year adjusted free cash flow guidance and returning gross margins to our target range by the fourth quarter."