Intel made a host of announcements last week ranging from new GPUs for exascale supercomputers to AI processors for the cloud.
During Intel's talk at Supercomputing 2019 (SC19), the tech company unveiled its new GPU, code-named Ponte Vecchio. This general-purpose GPU is built for HPC modeling, simulation workloads, and AI training. Ponte Vecchio will be deployed in the Aurora supercomputer, the first exascale system in the US due in 2021.
Aurora, at the Argonne National Laboratory in Illinois, will have more than 200 racks, 230 petabytes of storage, and memory higher than ten petabytes. The two CPUs on each node will be Sapphire Rapids-generation Xeons connected to six Ponte Vecchios.
Intel also provided detail surrounding the oneAPI, a unified programming model to simplify development across diverse architectures. The platform lets developers build while eliminating the complexity of separate codebases, multiple-programming languages, and different tools. Bill Savage, GM for compute performance and developer products, said oneAPI offered a "low-level common interface to heterogeneous hardware so that HPC developers can code directly to the hardware."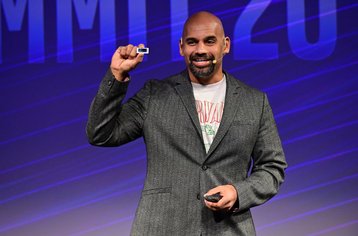 Nervana's teen spirit
Intel also released details on the new Nervana Neural Network Processors, the NNP-T and NNP-I, at the Intel AI summit in San Francisco last Tuesday.
The training and inference ASICs will target data center and cloud deployments, Intel said.
GM for Intel's AI Products Group, Naveen Rao, took to the stage to announce the release: "With this next phase of AI, we're reaching a breaking point in terms of computational hardware and memory.
"Purpose-built hardware like Intel Nervana NNPs… are necessary to continue the incredible progress in AI. Using more advanced forms of system-level AI will help us move from the conversion of data into information toward the transformation of information into knowledge.
"You're going to see this benefiting everybody because the whole purpose of the computer is shifting to be an AI machine."
OpenVINO and its accompanying AI dev tools were also demoed at the AI Summit. The dev tools along with the new Movidius VPU - also announced at the summit - will help developers test their AI models on different Intel architectures to see how their programs react across the manufacturer's portfolio.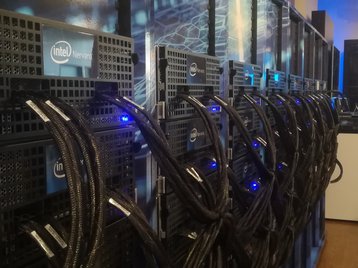 Training and Inference
The NNP-T, the AI training chip, when deployed in PODs, large server-like racks that can be interconnected, allows for masses of data to be processed to build accurate models in a reasonable time.
At the AI Summit event, a 10-rack POD with 480 NNP-T cards was demonstrated without the use of a switch. Each POD consists of up to eight cards in a node, one node in a rack, and multiple racks in a POD.
The inference chip is very different, it is instead deployed in a sleeve that is plugged into a one RU server with up to around 30 chips in each RU. The NNP-I is a dedicated inference chip that can process decisions for an AI model at scale and efficiently at speed.
Intel's AI products are expected to generate over $3.5 billion in revenue in 2019.