The world's largest chip maker has bought a company that is just two years old for hundreds of millions to apply deep learning to its data center business.
Intel has signed a definitive agreement to acquire deep learning cloud and chip start up Nervana Systems, with the company saying that the shift to artificial intelligence could be larger than the move to cloud computing.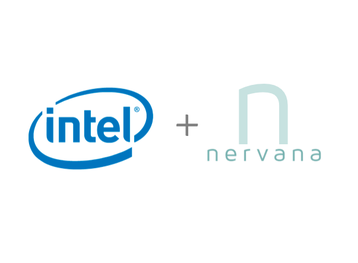 Chipping away at AI progress
Terms of the deal were not discussed, but Recode cites sources pegging the deal at as much as $408 million. Until now, Nervana had raised $25 million in venture funding, including as one of the first companies to receive money from Android-creator Andy Rubin's Playground Global.
The company has worked with companies as varied as In-Q-tel (the CIA's venture arm), Monsanto (agrochemical and agricultural biotechnology), Manulife (insurance and financial services), and Paradigm (oil and gas exploration software).
Nervana has developed both artificial algorithms, and chips built to power them. The Nervana Neon deep learning framework and Nervana deep learning platform was available through Nervana Cloud at time of the acquisition.
Nervana Engine, its custom chip, is set to come out next year. The company currently uses Maxwell TitanX cards, which CEO Naveen Rao says manages about six teraops per second, while Nvidia Pascals can reach 10-11. "On our chip, which is a TSMC 28 nanometer chip, we're seeing around 55 teraops per second," Rao told Next Platform.
The company does not measure by teraflops as the chip does not do floating point at all. While the chip in not very good for general multiplication, it can be built with more dense circuits than with a general purpose floating point chip.
Nevermind DeepMind… 
Rao, who designed six chips for Sun Microsystems before co-founding Nervana, said of Intel's acquisition: "We've always been a mission driven company. Even though we won't be a startup any longer, our mission hasn't changed: we are here to make a dent in the world of computation. With this deal, we can now shatter the old paradigm and move into a new regime of computing.
"We'll look back in 10 years and see this time as the inflection point of when compute architectures became neural. The semiconductor integrated circuit is one of humanity's crowning achievements and Intel has the best semiconductor technology in the world. Nervana's AI expertise combined with Intel's capabilities and huge market reach will allow us to realize our vision and create something truly special."
Diane Bryant, EVP & GM of Intel's Data Center Group, said: "Nervana has a fully-optimized software and hardware stack for deep learning. Their IP and expertise in accelerating deep learning algorithms will expand Intel's capabilities in the field of AI. We will apply Nervana's software expertise to further optimize the Intel Math Kernel Library and its integration into industry standard frameworks. Nervana's Engine and silicon expertise will advance Intel's AI portfolio and enhance the deep learning performance and TCO of our Intel Xeon and Intel Xeon Phi processors."
Deep learning has already begun to impact data centers, most recently with Google's DeepMind improving the company's PUE. Google also builds its own tensor-based chips.
Intel vice president Jason Waxman told Recode that deep learning and AI could be the next big thing, after the company famously missed out on the smartphone wave. He said: "I firmly believe this is not only the next wave but something that will dwarf the last wave."