UK satellite operator Inmarsat has announced plans for a new satellite-based network service known as Orchestra.
Orchestra will bring together existing geosynchronous (GEO) satellites with new low earth orbit satellites (LEO) and terrestrial 5G into an integrated solution.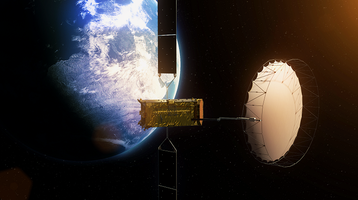 "An orchestra brings different instruments together, each supporting the other and playing its role in the masterpiece. We're building Orchestra on the same concept," said Rajeev Suri, CEO of Inmarsat. "By combining the distinct qualities of GEO, LEO, and 5G into a single network, we will deliver a service that is far greater than the sum of its parts. This is the future of connectivity and Inmarsat is perfectly positioned to bring it to the world with its proven technology expertise, right base of customers and partners, and financial strength."
The service will combine Inmarsat's existing GEO satellites – both GX and L-band – with a new "small constellation" of 150-175 satellites LEO satellites, while terrestrial 5G will add capacity in 'hot spots' such as ports, airports, and sea canals. The service will also use mesh technology, which allows individual customer terminals to direct traffic to and from other customer terminals.
The company said new services enabled by Orchestra include close-shore navigation for autonomous vessels, next-generation emergency safety services for maritime crews, secure and tactical private networks for governments and direct-to-cloud connections for airlines.
"Orchestra ensures Inmarsat is well positioned to deliver long-term, profitable growth by delivering new services to existing customers, targeting near-adjacent market segments, and maintaining a strong competitive position," said Suri. "We have a record of adopting the right technology at the right time. We plan to focus initially on delivering the Orchestra terrestrial network, while preparing for a future LEO constellation in the range of 150-175 satellites. This is a highly cost-effective approach that leverages Inmarsat's leading GEO satellite networks as part of Orchestra's unique multi-layer architecture."
The company said the initial five-year (2021-2026) total investment for Orchestra is expected to be in the order of $100 million.
Initial implementation will include delivery of the terrestrial network, terminals for aviation and maritime deployment, and LEO test satellites. Initial terrestrial deployment is expected from late 2022.
Inmarsat currently operates 14 satellites and plans to add five new GEO and two HEO spacecraft to its network over the next five years.
As well as new satellite startups such as SpaceX's Starlink and OneWeb, incumbent satellite companies are looking to provide more connectivity options from LEO. Canadian satellite operator Telesat's planned Lightspeed constellation will comprise a fleet of 298 satellites for a combined capacity of 15 Tbps.
SoftBank is now offering what it calls 'Non-Terrestrial Network' solutions through a combination of geosynchronous earth orbiting (GEO) satellite NB IoT (narrowband Internet of things) services provided by Skylo, LEO satellite communications to be provided by OneWeb, and high altitude platform system (HAPS)-based stratospheric telecommunication platforms from SoftBank subsidiary HAPSMobile.