India's RailTel is seeking a partner to help it build and operate more than 100 Edge data centers at railway stations across the county.
The Government-owned telco this week published an expression of interest request for a 20 year partnership to develop and manage the proposed Edge facilities. The estimated cost of the project is around Rs500 core ($67m).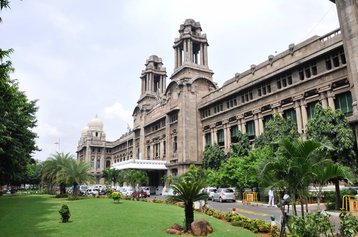 "RailTel has been in the forefront of building innovative platforms... so as the fruits of data revolution and technology lead economy are also shared with residents in semi-rural and rural areas," the company said. "It is pertinent to bring the data near to these areas for better experience and adoption of digital aspect by residents [and] this requires the creation of Edge data centers across India near semi-rural and rural areas."
The EOI said the capacity for each location would be predicted to be around 20 ~5KW racks and occupying a land space between 300 sqm (3,200 sq ft) to 428 sqm (4,600 sq ft), though this may vary based on the availability of space, power, and other factors at individual locations.
Puneet Chawla, CMD, RailTel, said: "With the help of such localized data centers, rural areas can be served with low latency applications related to digital skills, financial inclusions, digital literacy etc. The Edge date centers will provide better experience and aid adoption of digital services by the population of these areas, contributing to the digital economy."
The list of 'tentative' locations for the proposed Edge facilities includes 102 train stations across the country. While the proposals largely eschew India's traditional data center hubs such as Navi Mumbai, Chennai, or Noida, they include major cities including Surat, Pune, Lucknow, and Jaipur. Most of the locations are having RailTel Point of Presence (PoP) alongside available telecom connectivity and basic infrastructure.
RailTel would work with Indian Railways to secure the required land, and it would provide the required connectivity. The company noted that its own data center requirements would need to be given priority on commercial terms, and require around 20 percent of planned capacity.
Formed in 2000 with the aim of modernizing India's communication infrastructure, RailTel owns fiber along the country's rail networks. The network runs along more than 60,000 route kilometers and covers more than 6000 railway stations across India. RailTel, owned by Indian Railways & the Ministry of Railways, has two core Tier-III certified data centers in Gurugram and Secunderabad from which it offers colocation services.
Parties interested in expressing an interest must submit an application before January 28.
Last year France's state-owned railway operator Société nationale des chemins de fer français (SNCF) launched a new subsidiary to offer fiber services using spare capacity along its railway fiber network. The UK's Network Rail also invited private sector companies to invest up to £1 billion in the rail telecoms network in return for the right to commercialize spare capacity on that network.
Telecoms.com reports that SNCF, like many other rail operators, has replaced old copper cables with fiber to support its own connectivity needs, and is now looking to monetize the excess capacity.
In Russia, Russian Railways last year signed a new partnership with local telco Beeline to monetize spare capacity at its data centers.