Kenyan data center company icolo.io has completed construction of and opened a new data center in the city of Mombasa
"iColo MBA2-Nyali is open for business!" the company posted on LinkedIn this month.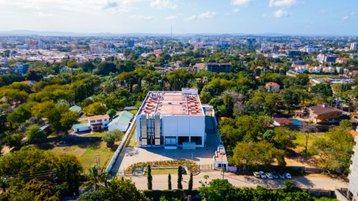 Located in Nyali, in the north of the city, the new MBA2 data center has 1,200 square meters (13,000 sq ft) of floorspace and 1.7MW of capacity, and is able to host around 580 racks.
First announced in May 2021, the facility was due to be completed in Q1 of 2022.
MBA2 is the company's second in Mombasa, and third overall. Mombasa One (MBA1) is a single-story facility with 226 racks and 450 sq m (4,800 sq ft) of floorspace in the Miritin area of the city. The company's Nairobi One (NBO1) campus opened in September 2019; the one-acre campus is located in the Karen area of the city and has 624 sq m (6,700 sq ft) of floorspace.
Icolo.io is part of Digital Realty, after Interxion took a controlling stake in the company in 2019; last year Digital Realty announced that iColo will enter Mozambique and is to develop a data center in the capital Maputo.
More in Construction & Site Selection