IBM is splitting its IT services business off into a new company. CEO Arvind Krishna says this will allow its cloud and AI business to expand.
The legacy services business will become an as-yet-unnamed public company, starting with around $19 billion in revenue, which will deal with enterprise-owned IT. The rest of IBM will continue as a business focusing on cloud IT (including hybrid cloud) which is outside the customer. This will be based around OpenShift, part of the Red Hat business which IBM acquired for $34 billion in 2019. IBM's remaining hardware business will remain with the main company.
IBM says in its press release that the spin-off should be complete by the end of 2021, by which time the services company, currently referred to as NewCo, will have a new name.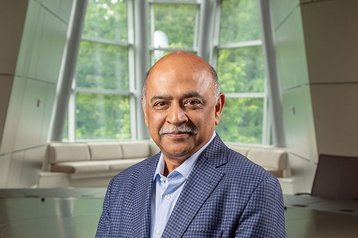 Services are old
IBM originally attempted to be a one-stop-shop for IT and technology, accumulating many divisions. It branched into services back in the 1990s under CEO Lou Gerstner. Over the last 20 years, the company has spun off various divisions including printers, networking and PCs. Now IT services, which provides sales of $19 billion, or around a quarter of IBM's revenue, is due to go. This will allow Arvind Krishna to concentrate on growing the remainder of IBM, which is in the fast-growing cloud sector, where IBM is currently lagging behind Amazon and Microsoft.
Rival HPE was later into the services business, buying EDS in 2008, but got out quicker. In 2016, HPE spun off its services business and merged it with existing services company CSC, to create a $26 billion services company, eventually named DXC.
"IBM is laser-focused on the $1 trillion hybrid cloud opportunity," said Krishna in the release. "Client buying needs for application and infrastructure services are diverging, while adoption of our hybrid cloud platform is accelerating. Now is the right time to create two market-leading companies focused on what they do best. IBM will focus on its open hybrid cloud platform and AI capabilities. NewCo will have greater agility to design, run and modernize the infrastructure of the world's most important organizations. Both companies will be on an improved growth trajectory with greater ability to partner and capture new opportunities – creating value for clients and shareholders."  
IBM's previous CEO Ginni Rometty, now Executive Chairman, said: "We have positioned IBM for the new era of hybrid cloud. Our multi-year transformation created the foundation for the open hybrid cloud platform, which we then accelerated with the acquisition of Red Hat."
NewCo will start out with more than 4,600 clients in 115 countries, including more than 75 percent of the Fortune 100, the release says. IBM claims this makes it twice the size of its nearest competitor.
Of the two independent companies, IBM will focus on "digital transformation journeys" which will be a $1 trillion opportunity, and NewCo will work on "infrastructure modernization" which is a $500 billion market, according to Krishna and Rometty.
The substance behind the initial announcement is still to come, but IBM says it will move from being a company with "more than half of its revenues in services" to one with "a majority in high-value cloud software and solutions", and more than half of its portfolio in recurring revenues.