Hewlett Packard Enterprise is set to merge its Enterprise Services division with CSC (previously known as Computer Sciences Corporation), forming a new company with expected annual revenues of $26 billion and more than 5,000 clients in 70 countries.
The announcement comes after Hewlett-Packard split into HP Inc. and Hewlett Packard Enterprise in November 2015, while CSC spun off its US public sector serving business into CSRA that same month. The deal also undoes HP's move into the services market in 2008 with its $13.9 billion acquisition of Electronic Data Systems under then-CEO Mark Hurd.
Spinning out SpinCo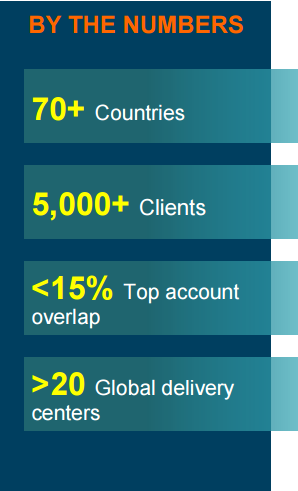 The new company, temporarily called SpinCo, is expected to be formed by March 2017, subject to regulatory and shareholder approval. The transaction is set to deliver around $8.5 billion to HPE's shareholders on an after-tax basis. This number includes an equity stake in the newly combined company valued at more than $4.5 billion, a cash dividend of $1.5 billion, and the assumption of $2.5 billion of liabilities and debt from HPE Enterprise Services segment.
The merger is expected to produce synergies of approximately $1 billion in the first year, with HPE and CSC owning approximately 50 percent of the company each.
CSC's CEO Mike Lawrie, who will serve as SpinCo's CEO, said: "As a pure play, the combined company will be built to lead digital transformations using next-generation technology solutions from both companies.
"It will be able to operate independent of any single hardware provider, while partnering with the world's leading technology providers, including HPE.
"As a more powerful, versatile and independent global technology services business, this new company will be well positioned to help clients succeed on their digital transformation journeys."
HPE CEO Meg Whitman, who will serve on the new company's board, said: "As two public companies with global scale, strong balance sheets and focused innovation pipelines, both HPE and the new company that combines CSC and HPE's Enterprise Services will be well positioned as leaders in their respective markets."

After the news was announced, HPE's shares rose by over 10 percent in after-hours trading, while shares of CSC rose by over 24 percent. Talking to Barron's, HPE's Whitman said that "a lot of things have changed in the enterprise tech world since" the 2008 purchase of EDS, adding: "it was a much different time. Cloud was not even a concept. Our market is changing at lightening speed. My view is, when things change this fast, it's better to be smaller and more focused."