A year ago, Hewlett Packard Enterprise announced that it would spin off and merge its Enterprise Services Division with CSC to form a new company with expected annual revenues of $26 billion.
That spin-merge, known as a Reverse Morris Trust, has finally been completed, establishing DXC Technology Company.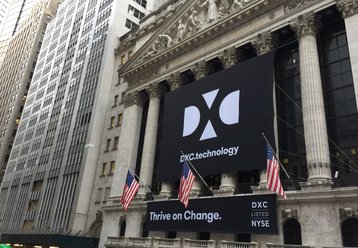 Close call
"With the successful close of our transaction, we are standing up a company that is ideally suited to meeting the needs of a rapidly changing technology marketplace," Mike Lawrie, DXC Technology chairman, president and CEO, said.
"We are looking forward delivering on our promise of producing greater value for clients, partners and shareholders, along with growth opportunities for our people."
Lawrie was previously the CEO of CSC, and prior to that he served as the CEO of Misys and Siebel Systems.
To mark its launch, the end-to-end IT services company rang the Opening Bell at the the New York Stock Exchange, as it started trading under the symbol "DXC." 
DXC does not actually stand for anything. 
When the company name was given to employees two months ago, an FAQ said: "DXC is not an acronym. The name DXC is a reference to our mission, which is leading clients on their digital transformation journeys. The X is a reference to the company, being a force multiplier, enabling clients to seize the opportunities presented by today's rapidly changing technologies."
The FAQ was outed by TheLayoff.com, an anonymous posting board for victims of job loss.
One alleged employee wrote: "I got a bag of DXC swag which included a pen, stickers, and a badge holder. The lobby is decorated with black and white balloons along with DXC banners and videos. I told my customer that today I am now a DXC employee, and had to explain that DXC is not an acronym, which he found confusing."*
The site also hosts discussions from DXC employees concerned about potential staff reductions. Rumors are circulating about a Workforce Adjustment Strategy entailing layoffs next month.
*Some online dictionaries, meanwhile, tell us that DXC stands for "deathcore (musical style)."