IBM has officially launched Cloud Private, its attempt to infiltrate in-house and colocation data centers, and link them to its public cloud services – or those from other major cloud providers.
Cloud Private is a platform built around Kubernetes, an open source container orchestration tool. It simplifies management of hybrid cloud infrastructure by enabling some of the 'cloud-native' features on-premises, and helping customers quickly shift their workloads from their data center to a public environment, and back.
Does what it says on the tin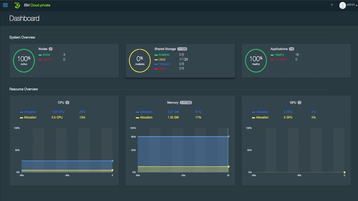 At the heart of Cloud Private is a product that used to be called IBM Spectrum Conductor for Containers. It's a server platform for developing and managing containerized applications that reached production-ready stage (Version 1.1.0) earlier this year, and was promptly rebranded.
As Cloud Private, it includes Kubernetes, a private image repository, a management console, and monitoring frameworks.
The platform is not aiming to replace any of the traditional IT management tools: it was designed to work alongside software from the likes of VMWare and OpenStack, and is compatible with "almost any" public cloud provider. It also supports Docker container format, and Cloud Foundry – the open source, cloud-based application development platform.
To complement Cloud Private, IBM has announced new container-optimized versions of its core enterprise software, such as IBM WebSphere Liberty, Db2 and MQ.
"Private cloud is a must for many enterprises such as ours working to reduce or eliminate their dependence on internal data centers," said Tyler Best, CTO at Hertz.
"A strategy consisting of public, private and hybrid cloud are essential for large enterprises to effectively make the transition from legacy systems to cloud. Hertz is an early adopter of both public and private IBM cloud and we could not accomplish our technology goals without private cloud as part of our overall cloud portfolio."
The idea of a private cloud platform that simplifies transition to public cloud is somewhat similar to Microsoft's Azure Stack, launched earlier this year. However, Azure Stack only supports certified IT components supplied by partners like Dell, EMC, HPE, Lenovo, Cisco and Huawei, whereas Cloud Private can run on any hardware.
IBM will continue to offer a free version of the platform under the name IBM Cloud private-ce (community edition).