IBM has launched a new rack-mounted version of its latest mainframe.
Big Blue this week unveiled new single frame and rack mount configurations of IBM z16 and the LinuxONE 4 server.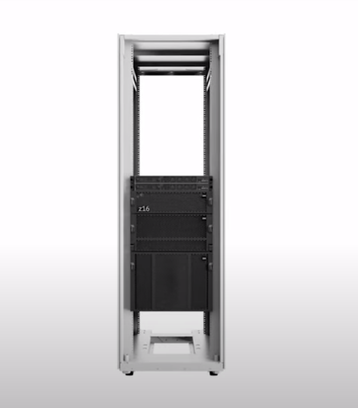 Both are based on IBM's Telum processor, with the company saying the new options are 'designed with sustainability in mind' for highly efficient data centers.
According to NetworkWorld, the new rack-mounted option is 18U, while the smallest single-frame models are 42U.
IBM said the new single frame and rack mount configurations expand client infrastructure choices, offering greater options in data center environments where space, sustainability, and standardization are important.
"IBM remains at the forefront of innovation to help clients weather storms generated by an ever-changing market," said Ross Mauri, general manager, IBM zSystems and LinuxONE. "We're protecting clients' investments in existing infrastructure while helping them to innovate with AI and quantum-safe technologies. These new options let companies of all sizes seamlessly co-locate IBM z16 and LinuxONE Rockhopper 4 with distributed infrastructure, bringing exciting capabilities to those environments."
The z16's new rack-optimized footprint is designed for use with client-owned, standard 19-inch racks and power distribution units. The new footprint creates opportunities to include systems in distributed environments with other servers, storage, SAN, and switches in one rack. IBM said this can help optimize latency for complex computing, such as training AI models.
The company also claims that consolidating Linux workloads on an IBM LinuxONE Rockhopper 4 instead of running them on comparable x86 servers with similar conditions and location can reduce energy consumption by 75 percent and space by 67 percent.
Alex Leventhal, product manager for IBM zSystems, said: "We've listened to our clients. They want a solution that is easily adoptable in a data center."
"Customers are looking to save energy costs. They're looking to reduce space. They're looking to consolidate their data centers," he added. "So by bringing a single frame and rack mount configuration zSystem inside of your data center, it's a full participant in the hybrid cloud — meaning that it's able to not just run high volume-based transaction workloads, but it's also able to complement what our clients currently have in their hybrid cloud environment today."
Both products will be generally available from May 17.
IBM launched the z16 in April 2022. It followed the z15, which launched in 2019. With the company's 7nm Telum Processor, IBM said the z16 is able to do AI inferencing on transactions; it can reportedly process 300 billion inference requests per day with just one millisecond of latency while conducting fraud analysis.
Last year Fujitsu announced it would end mainframe sales in 2030 and support in 2035. According to a timeline posted alongside the announcement, the company will launch a new GSM21 mainframe model in 2024, and offer support until 2035