Nordic data center firm Hyperco is to expand its presence in Finland with two new sites.
The company this week announced the development of two data center campuses in the Helsinki region, each with an initial capacity of 50MW. Details on timelines or building size weren't shared. Launched last year, these are the company's first development projects.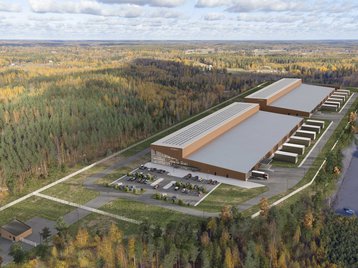 Hyperco said the sites, both located in the Helsinki metropolitan area, can be modularly scaled to up to four times the initial capacity and can utilize renewable energy. Both are planned to utilize waste-heat re-usage to supply local district heating networks.
"These two Nordic sites provide us with the opportunity to develop highly tailored, sustainably delivered solutions for Hyperco clients in need of capacity on this scale," said Hyperco's chief commercial officer, Joachim Kauppi. "Strong collaboration with municipalities, utility companies, and private landowners has allowed us to secure the most attractive plots in the region, while our local supply chain expertise will enable fast deployment for our customers."
Hyperco was formed last year, and in June 2021 announced plans to invest €200 million ($243.4 million) in data centers in the Nordics. Hyperco's investors include NREP, one of the largest real estate funds in the Nordics; and Varma, one of Finland's largest pension funds. Hyperco co-founders Aleksi Taipale, Timo Pohjanpalo, and Ville Vartiainen, were all previously at NREP.
In June 2022 the company acquired its first data center from TS-Yhtymä, a Finnish family office, for more than €35 million ($36.4m). The property, located at Myllynkivenkuja 4 in Vantaa, totals 16,900 square meters (181,900 sq ft) of leasable area, and has the potential for a 6,500 sqm (70,000 sqft) extension. It has two long-term tenants: Equinix and Thales, with the colocation firm offering 1,840sqm (19,805 sq ft) of colocation space across two floors.
Hyperco has said that it plans to invest in both existing data centers as well as large build-to-suit developments in the next couple of years, both locally and in other Nordic countries.