A new hydroelectricity-powered cryptomine data center is due to be built on reservation land in Polson, Montana.
Montana Gov. Greg Gianforte this week announced the news this month, saying the investment will fund the construction of a new 50MW data center utilizing renewable hydropower from the Kerr Dam in Polson. Further details around location or facility specifications weren't shared.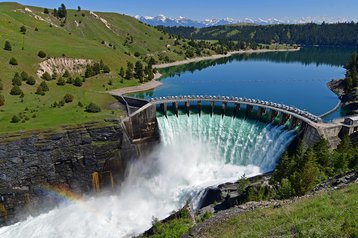 "Montana is open for business to the world, and we're thrilled by this investment in Montana," Gov. Gianforte said. "Our continued focus on cutting taxes, rolling back red tape, and attracting and training workers in critical industries is key to fueling future job creation, growth, and prosperity."
Though Gov. Gianforte didn't mention the company making the investment, Akbar Shamji, CEO of North Dakota-based Bitzero was in the accompanying press shot, alongside Canadian entrepreneur and former Dragon's Den/Shark Tank investor Kevin O'Leary.
Little information about Bitzero is available online. The company is building its HQ and a $500 million data center in North Dakota, and seemingly has a facility in in Tunnsjødal, Norway. It claims to focus on renewable power to fund its own mining as well as the mining of hosted customers. O'Leary and Dubai-based venture capital firm Phoenix Group are strategic advisors to the company.
"There is a heathy competition developing amongst states to attract capital. Some states are excelling at developing pro-business policy, regulations, and taxes and have leadership that have actually run businesses in their careers. Montana has all of that and more. For me as an investor, the state is a top 5 destination for long-term capital investment," O'Leary said at the announcement of the new facility.
Polson is a city in Lake County, on the southern shore of Flathead Lake. Named after pioneer rancher David Polson, it is within the Flathead Indian Reservation. Created in 1855, the reservation spans almost 2,000 square miles and has land in four of Montana's counties: Lake, Sanders, Missoula, and Flathead, and controls most of Flathead Lake.
The 208MW Kerr Dam, renamed to the Seli'š Ksanka Qlispe' (SKQ) Dam in 2015, was built in 1938 along the Flathead River and is located within the Flathead Indian Reservation. The Confederated Salish and Kootenai Tribes (CSKT) – made up of the Bitterroot Salish, Kootenai, and Pend d'Oreilles tribes – acquired the dam in 2015 from PPL Montana, LLC (the successor to the Montana Power Company).
Speaking to the Daily Interlake, CSKT spokesperson Shane A. Morigeau, said discussions with the Tribes about the proposed facility are very preliminary at this point. In a statement, he said the Tribes are doing their due diligence and evaluation "to see if this is a viable business opportunity."
"That said, the potential for local data center capacity, and heat recapture that can be used to support greenhouses and help to achieve the Tribes' priority on food sovereignty, could provide immeasurable benefits not only for CSKT, but our community as a whole, including jobs and hi-tech business development opportunities for local folks and local small businesses," he added.