Huawei has launched a new cloud region in Riyadh, Saudi Arabia.
The launch of the Huawei Cloud Riyadh Region was announced at the Huawei Cloud Summit Saudi Arabia 2023.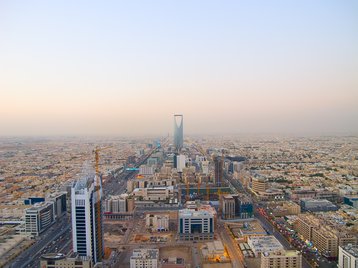 The new cloud region, located in an STC/Center3 data center in Riyadh, offers three availability zones. It is the company's first region in the Middle East.
Eric Yang, CEO of Huawei Saudi Arabia, said: "We are proudly launching Huawei Cloud Riyadh Region today. It has been a great journey for us in Saudi Arabia for the last 20 years. Huawei is a constructor for an intelligent society, contributor to a thriving economy, and cultivator for a prosperous talent ecosystem. Towards 2030, we will stay dedicated to continuously providing ubiquitous connectivity, green energy, pervasive cloud computing, and AI capabilities for Saudi Arabia to unlock unlimited opportunities of the new digital era."
Huawei first announced plans to launch a Saudi cloud region in February 2022 but didn't disclose any information on location or timelines.
Haitham bin Abdul Rahman Al-Ohali, vice minister at the Ministry of Communications and Information Technology (MCIT) in Saudi Arabia, said: "Huawei is a proud partner in our country's technological progress having worked with the Ministry, service providers, enterprises, and universities in various collective efforts towards digital transformation. We look forward to the transformative impact the Huawei Cloud Riyadh Region will have on our digital ecosystem, creating new avenues for innovation and growth."
Huawei Cloud currently has six international regions in Singapore; Bangkok, Thailand; Johannesburg, South Africa; Mexico City, Mexico; Sao Paulo, Brazil; and Santiago, Chile. It has a number of regions across China and Hong Kong. Last year it announced plans for a new region in Indonesia.
Huawei part of new Malaysian data center testbed initiative
In Malaysia, Huawei joined a group of companies to explore data center development in the Malaysian state of Sarawak, located on the northwest of Borneo Island.
This week the Borneo unit of energy company Solarvest, the Centre for Technology Excellence Sarawak (CENTEXS), Huawei Technologies' Malaysian unit, and GreenBay CES Sdn Bhd entered into a Memorandum of Understanding (MoU).
The MoU aims to establish a "hyperscale green data center testbed and training program in Sarawak," and spur research and development collaboration and intellectual property creation in clean energy solutions. The group will look to establish hyperscale data centers that "reduce carbon footprint and optimize resource utilization."
The companies said Solarvest Borneo will contribute its expertise in green energy, CENTEXS will provide a dedicated testbed area for data center operations training, Huawei support the training needs of the program, and GreenBay will lend its expertise in constructing data centers.
Director of Solarvest Borneo, Leon Liew Chee Ing, said: "Given the Malaysian government's focus on data centers within the digital ecosystem development, our green data center testbed and training program are poised to set the benchmark for environmentally responsible hyperscale data centers."
CENTEXS CEO, Tuan Haji Syeed Mohd Hussien Wan Abdul Rahman, added: "We are delighted to offer a learning arena dedicated to nurturing the skills of Sarawak's emerging generation. The data center testbed provides valuable hands-on exposure for students, professionals, and researchers eager to delve into the intricacies of data center operations, management, and maintenance. Within this controlled environment, participants can acquire insights into data center management spanning server deployment, cooling strategies, energy monitoring, and security protocols."