Huawei this week launched a new version of a database engine incorporating machine learning technology, as well as an update to its FusionStorage storage system that it says is the first designed for data center level deployments.
FusionStorage 8.0 now offers simultaneous supports for block, file, object and Hadoop Distributed File System (HDFS) protocols, which means that a single storage system can conceivably be used across the entire data center, the company says.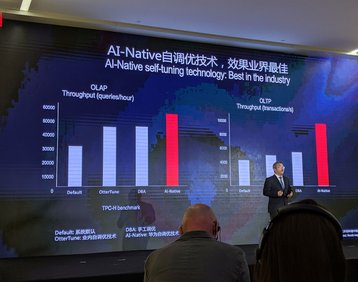 'AI-native' database
Already in use by more than 1,500 commercial customers globally, the latest version of Huawei's PostgreSQL-based GaussDB is touted by the company as the world's first AI-native database. Specifically, it adds a host of AI-based capabilities such as the ability to self-tune, automatic fault diagnosis, and some self-healing capabilities.
To highlight its self-tuning skills, Huawei shared a chart showing AI-tuned GaussDB configuration performing up to 50 percent better than manually tuned configuration as well as configuration produced by popular machine learning-based OtterTune tool for both OLAP and OLTP databases.
Huawei also touted GaussDB's support for diverse computing platforms, and will run on Arm-based processors, GPUs and NPUs (neural processing units) on top of traditional x86 CPUs. While Huawei was quiet on details of GaussDB's GPU and NPU support, it claimed that GaussDB offers the best database performance for the Arm platform.
This was credited to parallelism enhancements made to GaussDB to leverage the superior multi-core architecture of the Arm platform, and a range of other optimizations targeted at the Arm processor.
The company says GaussDB's Arm-centric optimizations allow it to deliver 48 percent better performance in benchmark tests performed on the company's TaiShan Hi1620 Arm processor. Designed to power server workloads, the Hi1620 chip is used in Huawei's servers and available in configurations of up to 64 cores per socket.
GaussDB supports multiple deployment scenarios, including deployment on a standalone server, as part of a private cloud, or on Huawei's public cloud. On Huawei Cloud, GaussDB is used to power various data warehousing services for its cloud customers.