The Department of Energy (DoE) is planning to set up a new supercomputer at the Argonne National Laboratory.
The 44 petaflops Polaris system, built by HPE, is planned to be used as a testbed ahead of the launch of the delayed exascale Aurora supercomputer.
Polaris is expected to go live in early 2022 and open to the broader HPC community in spring of 2022.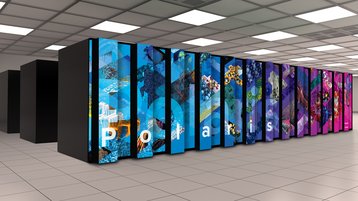 Installation of Polaris is currently underway, with the supercomputer set to feature 280 HPE Apollo Gen10 Plus systems across 40 racks. That includes a total of 560 AMD Epyc Rome CPUs and 2,240 Nvidia 40GB A100 GPUs, connected by HPE's Slingshot networking.
In March 2022, the second-gen Epyc Rome CPUs will be switched to third-gen Epyc Milans, and Slingshot 10 will be upgraded to 11.
"Polaris is well equipped to help move the ALCF into the exascale era of computational science by accelerating the application of AI capabilities to the growing data and simulation demands of our users," Argonne Leadership Computing Facility (ALCF) director Michael E. Papka said.
"Beyond getting us ready for Aurora, Polaris will further provide a platform to experiment with the integration of supercomputers and large-scale experiment facilities, like the Advanced Photon Source, making HPC available to more scientific communities. Polaris will also provide a broader opportunity to help prototype and test the integration of HPC with real-time experiments and sensor networks."
At 44 petaflops of peak double-precision performance and nearly 1.4 exaflops of mixed-precision theoretical AI performance, the system would be a top 20 supercomputer if launched today.
It joins the seven petaflops Theta supercomputer - itself built as a test machine for an earlier version of Aurora.
Aurora was originally meant to launch in 2018 as a 180 petaflops supercomputer featuring Intel's Xeon Phi chips. But when Phi was delayed, soft-launched, and then canceled, Aurora was pushed back and re-architected with new processors, as an exascale system.
That machine was then set for 2021, but with Intel struggling to develop Sapphire Rapids CPUs and Ponte Vecchio GPUs, this too has been delayed.
The supercomputer is now expected in 2022, with the first exascale system instead set to be the HPE Cray-AMD Frontier system for the Oak Ridge National Laboratory.
​"As we approach the exascale era, which will power a new age of insight and innovation, high-performance computing will play a critical role in harnessing data to take on the world's most pressing challenges," Justin Hotard, SVP and GM of HPC and Mission Critical Solutions at HPE, said.
"Our latest collaboration with the DOE's Argonne National Laboratory to build and deliver the Polaris testbed supercomputer will further its mission by preparing users for the magnitude of technological advancement that exascale systems will deliver."