The US Department of Energy's Oak Ridge National Laboratory will be home to a supercomputer capable of more than 1.5 exaflops of performance in 2021.
Frontier will be based on Cray's new Shasta architecture and Slingshot interconnect, and feature upcoming AMD Epyc CPUs and Radeon Instinct GPUs.
The total contract award for what will be the world's most powerful computer is valued at more than $600 million.
That's a lot of power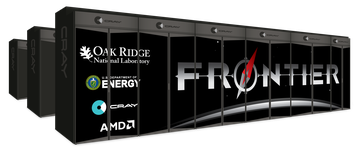 2021 is also when Argonne National Laboratory will deploy Aurora, a one exaflops system from Cray and Intel.
It has not been officially confirmed which supercomputer will launch first, although previous roadmaps had Aurora as the first exascale supercomputer coming out of the US. China, Japan and the EU are also aggressively working on developing their own exascale supercomputers, as we detailed in a feature earlier this year.
"We are honored to be part of this historic moment as we embark on supporting extreme-scale scientific endeavors to deliver the next US exascale supercomputer to the Department of Energy and ORNL," Peter Ungaro, president and CEO of Cray, said.
"Frontier will incorporate foundational new technologies from Cray and AMD that will enable the new exascale era - characterized by data-intensive workloads and the convergence of modeling, simulation, analytics, and AI for scientific discovery, engineering and digital transformation."
This convergence is expected to profoundly impact scientific research, something we delved into in the last issue of the magazine. We talked to numerous people at the Department of Energy, including the heads of ExaLearn, which aims to bring machine learning to exascale supercomputers.
"Exascale will enable cosmology simulations large enough to model the distribution of billions of galaxies but also fine-grained enough to compare to a range of ground-and satellite-based observations, such as cosmic microwave background measurements and radio, optical, and x-ray data sets," Salman Habib, Argonne's ExaSky principal investigator, said. "At the same time, Frontier's AI-oriented technology will enable us to analyze data from simulations in ways we simply can't today."
Frontier will feature more than 100 Cray Shasta cabinets, with densities of up to 300kW per cabinet, and a 4:1 GPU to CPU ratio. The processors will have AMD Infinity Fabric links and coherent memory between them within the node, while each node will have one Cray Slingshot interconnect network port for every GPU. In total, it will use more than 90 miles (145km) of cabling.
The liquid cooled system will span 7,300 square feet (680 sq m), and join the current world's most powerful supercomputer, Summit, at Oak Ridge.
"ORNL's vision is to sustain the nation's preeminence in science and technology by developing and deploying leadership computing for research and innovation at an unprecedented scale," ORNL director Thomas Zacharia said.
"Frontier follows the well-established computing path charted by ORNL and its partners that will provide the research community with an exascale system ready for science on day one."
Cray has separately been awarded a joint development contract to pursue new foundational technologies for Frontier. This includes the development of new high-density compute infrastructure, enhancements to HPC developer tools for GPU scaling and AI, and the creation of a Center of Excellence to establish best practices for exascale application development.
Cray and AMD are co-designing and developing GPU programming tools, including new capabilities in the Cray Programming Environment and AMD's ROCm open compute platform that will be integrated together into the Cray Shasta software stack for Frontier.
"AMD is proud to be working with Oak Ridge National Laboratory and the Department of Energy and Cray to push the boundaries of high performance computing with Frontier," Dr Lisa Su, AMD President and CEO, said.
"Today's announcement represents the power of collaboration between private industry and public research institutions to deliver groundbreaking innovations that scientists can use to solve some of the world's biggest problems."