Hewlett Packard Enterprise (HPE) will require all staff, contractors and visitors to be fully vaccinated before entering its offices.
The vaccine mandate, announced in a series of tweets by CEO Antonio Neri, affects 59,400 HPE employees in 112 offices in 48 countries, as well as customers and contractors. HPE follows Google, Facebook, and Microsoft in requiring vaccinations for staff wishing to return to the office.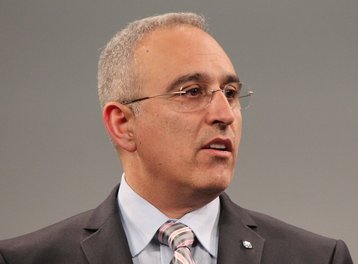 HPE, Google, Microsoft, and Facebook demand jabs
"HPE will be requiring all team members, contractors, and visitors to be fully vaccinated as a condition of entering our sites and attending business events where legally permitted," said Neri's tweet.
"Throughout this pandemic, we have continually assessed the ever-changing dynamic, we have addressed what we can control and we have adapted. It is now clear that Covid-19 is going to be with us for a while, and that getting back to normal will take more than masks and distancing," he went on. "I don't take this decision lightly but believe it is in the best interest of our company, our team members, and the communities we serve, all of whom depend on our ability to adapt and lead."
Neri himself tested positive for Covid-19 in 2020, and recovered. The company itself also suffered, when the pandemic caused a slowdown in HPE's business, bringing on a spate of cost-cutting measures including pay cuts, layoffs, and unpaid leave over the next three years.
Google and Facebook announced in July that staff would have to be vaccinated before returning to their US offices.
"Getting vaccinated is one of the most important ways to keep ourselves and our communities healthy in the months ahead," said Google CEO Sundar Pichai in a blog.
Lori Goler, vice president of people, announced Facebook's vaccine mandate, saying: "How we implement this policy will depend on local conditions and regulations. We will have a process for those who cannot be vaccinated for medical or other reasons and will be evaluating our approach in other regions as the situation evolves."
Microsoft's mandate, which comes into effect in September, applies to guests and Microsoft partners as well as staff, and allows medical exemptions. The company has delayed a full reopening of its offices until October 4.
Microsoft is allowing parents of young children to work from home until January, along with those taking care of immunosuppressed people.
More firms are expected to follow suit. US telco AT&T is requiring management staff to be vaccinated and is negotiating with unions to bring the measure to other employees.
"We're requiring management employees be vaccinated before entering a work location. In the interest of employee safety, we plan to begin discussions with our union partners to jointly align on a path forward for our union-represented employees," said Jim Greer, assistant VP of Corporate Communications for AT&T, in a statement.
AT&T has said that employees who are unable to be vaccinated for medical or other reasons will be exmpted.
Other outfits such as Dell have held off on a vaccine mandate - while also delaying a return to office work.