At Discover 2016, Hewlett Packard Enterprise revealed updates to its HPE Helion cloud portfolio, including HPE Helion Cloud Suite, Helion CloudSystem 10, Helion Stackato 4.0, and new HPE Technology Services offerings.
Also announced was the HPE CL3100, an extension of the HPE Cloudline storage server portfolio that meets the the dense storage needs for Hadoop, Cassandra and other demanding compute workloads.
Suite Tooth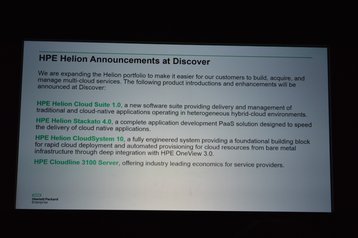 Edwin Yuen of HPE Cloud told Datacenter Dynamics: "We really made three major announcements, one is going to be the Helion Cloud Suite, and what that's doing is that the Helion Cloud Suite brings together a lot of different great products that we had in our software and our cloud portfolio into one software package that customers can buy.
"It's really a great simplification of what people can get in order to do hybrid cloud. So it's got some great capabilities across the board, everything from data center automation, up to DevOps-ready cloud, all the way to service transformation things like application release management, application monitoring, predictive analytics, compliance. Things beyond just normal orchestration of virtual machines and applications. Developing applications, both cloud native and traditional ones."
As for Cloud System 10, the latest version "is integrated, hardware and software - you get everything together in one product. The big innovation there is the update within the software for Helion OpenStack 3.0."
After purchasing ActiveState's Stackato Platform-as-a-Service business last year, HPE has now brought Stackato 4.0 to their systems with "an updated install, updated easier-to-use interface, and the ability to manage multiple application clusters where you're delivering applications."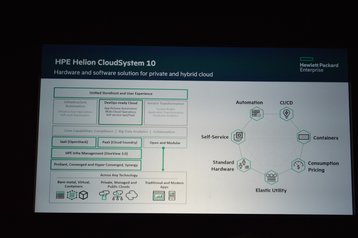 Speaking on Helion's focus as a whole, Yuen said that the company's priority is to be multi-cloud. "What we mean by that is being able to work with customers where they are now, which is the ability to kind of go to different clouds, and that can be multiple public clouds, that could be multiple private clouds, different things like AWS and Azure, or maybe Hyper-V, VMware or KVM.
"But being able to go and connect all of those, in whatever method that they have, the software that we have is really inherently designed to work across the board on that, and we've got these great third party connectors and work with a lot of our partners in order to make that happen."
He continued: "We're not just talking about the ability to orchestrate and manage virtual machines, we're talking about workloads and applications and devops. We're not just talking about connecting to public cloud, we're connecting freely to multiple public clouds and aggregating those together.
"We're adding capabilities like compliance across the board, from hardware to the applications. Those are capabilities that are not generally found in a lot of our competitors, who are just adding more cloud like capabilities onto regular existing infrastructure management software."