Guam-based telco GTA Teleguam has filed for planning permission to build a new data center and cable landing station (CLS).
First reported by the Daily Guam Post, GTA has filed to build a new CLS Inalåhan on the southeast of the island.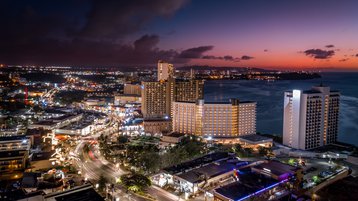 Details about exactly where the CLS would be built, the size of any on-site data center, plus which cables might land there, weren't shared.
During a recent council meeting, planning commission officials suggested how GTA could further help the local community, including providing CCTV cameras at major intersections throughout the village as well as phone and wireless internet connection for the mayor's office and cell phones for council staff.
Council member Joseph Meno recognized the requests may be seen as "overkill," but said it would be "chump change" in comparison to how GTA would benefit once the cable station is complete.
"This is one way our community can benefit firsthand," he said.
GTA was founded in 1950 and today is owned by Huntsman Family Investments, the private investment platform for the Jon M. Huntsman, Sr. family. The company acquired GTA in 2017 from Japanese firm Advantage Partners; Advantage acquired the company in 2010 from Shamrock Capital Advisors, which had bought it from the local government in 2004.
GTA has several landing stations & data centers on the island. The company announced plans for a combined CLS and data center in partnership with RTI in 2019 known as Gateway Network Connections, LLC (GNC). That facility, completed around 2020, is close to GTA's other existing CLS, known as the GTA Piti-I Cable Landing Station, where the SEA-US cable lands.
Etix Everywhere recently sold its stake in the 11,800 square foot (1,100 sqm) GNC facility, which offers 250 racks of capacity and up to 2MW of power. GTA owns the facility alongside 360 Capital Group-owned Asia Connectivity Elements, Inc. 360 Capital Group had previously owned a large stake in Etix's parent company.
GTA broke ground on a new CLS and data center in Tamuning on the north of the island in October 2022. The new Alupang data center will span two stories, offering 4MW of capacity across 31,000 sq ft (2,875 sqm).
Guam is currently the landing point for 11 subsea cables, and another four are due to land on the island in the coming years. As well as GTA, Tata operates one CLS on the island, and AT&T has two.
Google recently filed to land its Apricot cable at Tata's facility on the island.
Edge company Turbidite, founded by former Global Cloud Xchange CEO Bill Barney and backed by Hong Kong property firm New World Development Company Limited, was looking to build a 3MW data center in Guam with eventual expansion to 10MW. However, Barney left the company earlier this year and the company's website has since gone dark.