Google is expanding its data center footprint around Columbus, Ohio.
The search and cloud company this week announced plans to build two more data centers in Columbus and Lancaster.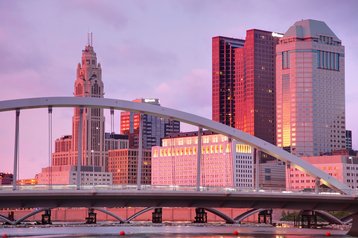 The company has one facility operational in the New Albany area of Columbus. The two new locations will bring Google's total investment in Ohio to more than $2 billion, officials said.
"Ohio is a growing technology hub and data center market, and we welcome these two new Google projects in Columbus and Lancaster to complement the one already in New Albany," Ohio Gov. Mike DeWine said in a statement.
Google broke ground on its $600 million data center campus in New Albany in 2019 and subsequently announced plans to invest an additional $1 billion to expand the site. The company's Columbus cloud region launched in May 2022.
The company is also planning another campus in Columbus on the site of a former snake oil farm and has bought land in Lancaster.
Local reports suggest the company will be developing at the Hartman Farm site at 5076 S. High St. on the Far South Side in Columbus and 104 Whiley Rd. west of US 33 in Lancaster. Construction is reportedly already underway at both sites.
"It's very unique and special to have three different campuses in one region like central Ohio," Amber Tillman, Google's head of data center economic and community development, told the Columbus Dispatch. "I think that's a great testament to what a great place Ohio has been to do business for us."
AWS has a significant presence in and around Columbus, while Meta also has a New Albany campus.