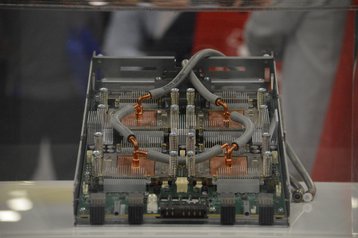 "Compute at Google is at an important inflection point," Amin Vahdat, Google fellow and VP of Systems Infrastructure, said in a blog post.
"To date, the motherboard has been our integration point, where we compose CPUs, networking, storage devices, custom accelerators, memory, all from different vendors, into an optimized system. But that's no longer sufficient: to gain higher performance and to use less power, our workloads demand even deeper integration into the underlying hardware."
Instead of integrating components on a motherboard where they are separated by inches of wires, Google will develop SoCs where multiple functions sit on the same chip, or on multiple chips inside one package. "In other words, the SoC is the new motherboard."
Vahdat said that the company will continue to work with its "global ecosystem of partners," and it is not clear which architecture Google will use for its SoC. "We buy where it makes sense, build it ourselves where we have to, and aim to build ecosystems that benefit the entire industry," he said.
Frank spent decades working on the x86 architecture developed by Intel and AMD, but Google would have to partner with either company to develop x86 products. AWS, Equinix, Apple and others have increasingly turned to Arm, whose business model is based on licensing its architecture - but Google is among those concerned about Arm's acquisition by Nvidia, which critics claim could threaten that model.
Then there's RISC-V, which is completely open source. Google is a founding member of RISC-V International, but its size means it is a founder in numerous foundations and projects where its involvement is nominal. It could also be involved in RISC-V to help develop low-cost IoT and Edge devices, rather than server chips.
This week, The Telegraph reported that Amazon's devices team was hiring engineers with experience in RISC-V, but again it is not clear if that would be for its growing portfolio of smart home devices.