Investment firm GI Partners has acquired a data center in Sterling, Virginia, from Sentinal Data Centers.
The company this week announced it had acquired 22262 Cloud Plaza in Northern Virginia's Loudoun County, a data center currently leased by an unnamed 'global technology firm'. Terms of the deal were not disclosed.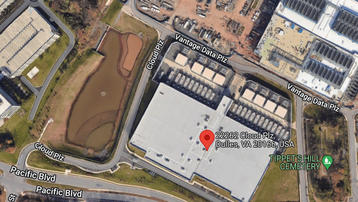 Originally delivered and fully commissioned in 2019, the 238,000 sq ft (22,100 sqm) property offers more than 46MW of capacity.
John Sheputis, Managing Director at GI Partners and Head of Acquisitions for GI Partners Real Estate, said: "We are excited and proud to own one of the most densely networked data centers in Northern Virginia, the nexus of the world's Internet traffic. We are seeing increased net absorption for data center capacity broadly, and users placing premium value on locating at network-differentiated assets like Cloud Plaza. We believe that the addition of this fortress-like asset to our data center portfolio will reduce our overall risk while providing accretive returns over the long-term."
Sentinel Data Centers, will retain a minority interest in the ownership of the property. "The GI Partners Real Estate team has been great to work with and a real class act," said Josh Rabina, Co-CEO of Sentinel Data Centers. "We are thrilled to be investing alongside GI Partners and continuing our involvement with this amazing asset."
The building is located adjacent to Vantage's Virginia campus, and down the road from a former AOL campus Sentinel acquired in 2017. Sentinel says it currently owns over 300 acres and 300MW of potential capacity in Virginia.
CBRE Data Center Capital Markets represented the seller on this transaction.
Founded in 2001, GI Partners invests in private equity, real estate, and data infrastructure and founded Digital Realty in 2004. The company currently has investments in several fiber and broadband companies as well as Hawaiian data center company DR Fortress and a number of individual facilities. It also has stakes in Flexential and recently set up a new Life Sciences and data center fund.