Foxconn has launched a new data center at its headquarters in New Taipei, Taiwan.
VMware announced this week that the Huyue Cloud data center built for Hon Hai Technology Group (known internationally as Foxconn) officially opened in June this year.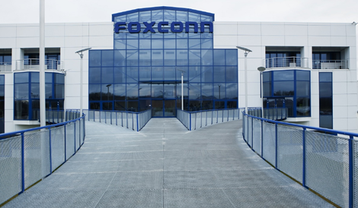 A report in DigiTimes Asia suggests the facility was built in partnership with local telco Far EasTone Telecom and is Foxconn's first data center featuring a hybrid multi-cloud architecture, though specifications weren't shared.
VMware said the software-defined data center (SDDC) utilizes VMware's Cloud Foundation and NSX Advanced Load Balancer, allowing the company to achieve centralized management of resources and use virtualization technology.
In the future, Hon Hai will replicate the construction model of local cloud data centers around the world.
Gong Peiyuan, chief information officer of Hon Hai Technology Group, said: "The construction of Huyue Cloud data center is the key cornerstone of Hon Hai's foothold in Taiwan and a global perspective. Hon Hai will continue to work with VMware and use its hybrid cloud solution to enable Hon Hai's huge business group to have more flexible, secure and sustainable resource management. strategy to set an example of transformation for the industry."
Chen Xuezhi, general manager of VMware Taiwan, added: "VMware has long been an important promoter of the digital transformation of Taiwanese enterprises, and is committed to building a cloud-based smart digital blueprint for local partners and linking world-class innovative technologies for diverse industries. I am honored to have the opportunity to jointly launch a Huyue Cloud data center is the core of the global cloud service, which has successfully promoted more flexible global digital management, resource scheduling and technological innovation, allowing Hon Hai to successfully open the door to cross-domain expansion, adding value to its competitive advantage in the international market."
Taiwan's government is considering fining tech giant Foxconn up to T$25 million ($835,600) over its investment in a Chinese chip conglomerate without first getting regulatory approval, according to a recent report from Reuters.
Foxconn became a shareholder in Chinese chip conglomerate Tsinghua Unigroup via a 5.38 billion yuan ($797 million) investment by a subsidiary, but did not seek prior approval from the Taiwan government before the investment was made.
More in Construction & Site Selection