Steffan Tomlinson, the former CFO and VP of Google Cloud, is leaving to take up the same position at Confluent, an enterprise event streaming platform provider.
Tomlinson worked at Google Cloud for a year and three months and is leaving to join Confluent, a startup that is preparing for an expected initial public offering (IPO) after raising a $250 million Series E funding round in April.
The IPO follows a valuation of Confluent of around $4.5bn by its backers Coatue Management.
It's all about the journey
Prior to his stint at Google, Tomlinson was CFO at Palo Alto Networks and is still a board member at both Eventbrite and Cornerstone OnDemand. He has a track record of helping companies through IPOs, including both Palo Alto in 2012 and Aruba Networks in 2007.
Former Confluent CFO Cheryl Dalrymple was a stand-in until the startup found Tomlinson, and will now take up the role of chief people officer as her sole position.
"What I look for in a company is the journey they're on," Tomlinson said in an interview with CNBC. "Clearly, Confluent is a late-stage, privately held company. We look at an IPO as one step along the journey of creating value and having a durable growth model."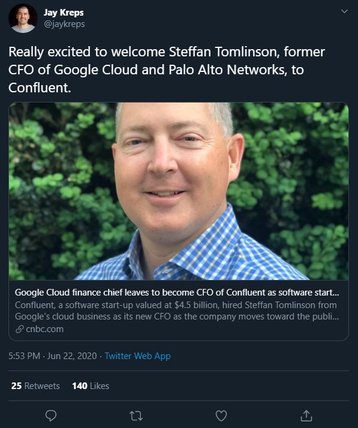 Confluent also announced a new board member, former MuleSoft CEO Greg Schott.
"Event streaming has become a foundational part of the modern software stack, but it remains too complex for many organizations to use pervasively within their businesses," Confluent co-founder and CEO Jay Kreps.
"That's the premise behind Project Metamorphosis [Confluent's next-generation event streaming platform] and gets to the core of why we think Greg and Steffan are great fits for Confluent.
"They both have extensive experience scaling high-growth startups into large, cloud-first businesses that help their customers leverage complex technologies quickly and easily. For example, Steffan has twice helped grow organizations through an IPO with valuations increasing well over ten times."
Confluent was built using technology from the Apache Kafka open-source platform, which Kreps helped develop in his previous role at LinkedIn.